Paul Neumeister, Oslo and Akershus University College of Applied Sciences, Mobility for Study, PHST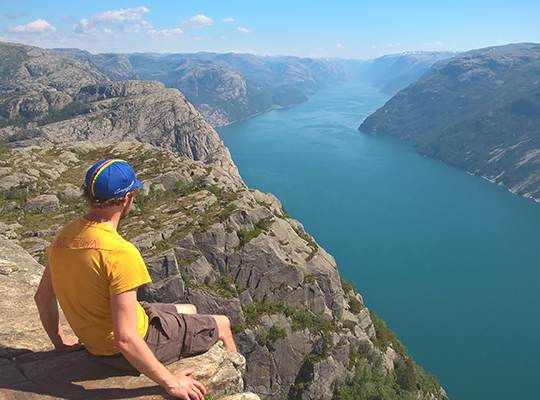 Stunning view from Preikestolen Lysefjord/Stavanger/Norway (Image Paul Neumeister)
Oslo and Akershus University College of Applied Siences
Postal address:
P.O. Box. 4 St. Olavs plass
N-o130 Oslo
Norway
E-Mail:
post@hioa.no
Web:
www.hioa.no
LUI Information Center (Faculty of Education and International Studies)
Pillestredet 52
Open from 0800-1500
E-Mail:
opptak@hioa.no
General information about Oslo and Akershus University College of Applied Sciences (Hioa)
Hioa is located in three different locations (Pillestredet, Kjeller, Sandvika) in Oslo. The main campus and home of the Faculty of Education and International studies (LUI) is in Pillestredet near to the Oslo Palace and the city center. There are four faculties at Hioa.
Hioa is located in a former brewery. There is a big canteen, where you can get healthy and fresh food. On the campus are a few different restaurants, bars and cafes. Especially in spring and summer it is nice to sit outside in the yard enjoing the warm Oslo sun ;). There is a student pub in th basement of the main building, where you can get beer and drinks for an acceptable price. There are a lot of weekly events (Pubquiz, Winetasting, Erasmusparty,...), you can bring your own food and eat there.
In the buildings are a lot of work places available. It is possible to meet there with other students and prepare for your courses and exams. You can use the Student-WIFI (Eduoram). There is a big library where you can get all the literature you need for your homeworks or reports. There are a lot of computer-work-places, scanner and printer, which you can use with your student password and your student card. You can also buy the literature for your courses in the book shop in the university buildings.
It is a little difficult to find the correct rooms of your courses, but you can get a map in the office at Pillestredet 52.
Description of the chosen courses
Name: Multicultural Identity in a Global World (spring semester 2016)
Academic coordinator: Mrs. Kristin Danielsen Wolf
Goals: The main focus is on exploring the concepts of culture and identity in the context of the present day globalization.
Course repuirements: Active participation in classes and discussions; individual presentations; short and final report; oral exam
ECTS: 30
Language of Instruction: English
Topics:
Cultural Identity and Cultural Avareness
Childhood and Identity Construction
Intercultural Communication, theory and practical experience
Culture and World-view
Culture and Religion
Culture and Ethics
Human Rights and Childhood
Cultural Identity and Racism
Traditions, Festivals and Rituals
Processes of Globalization
Global Consciousness
Cross-cultural Competence
Social Commitment in a Globalized World
Fieldwork introductions and discussions
Traits and trends in norwegian schools and kindergardens
The lessons were based on little frontal input and a lot of discussion in smaller groups and also in the whole class. We did a few excursions to different organisations and museums fitting to the topics in the classes (Synagoge, 22nd of July Center, Oslo Red Cross,...).
Information to the course on www.hioa.no
Name: Norwegian language for foreign students, beginners level
Language of Instruction: Norwegian and English
ECTS: 5
Course requirements: Active participation in classes and discussions: oral and written exam;
Classes: two times a week
The Norwegian classes are voluntary, but if you are going there you should be prepared and work on the topics of the courses before, so you can follow the classes. I can highly recommend to visit the Norwegian classes and to try to use the new skills in everyday life.
Organisation and application process
I wanted to spend a semester abroad since I started my studies at the University of Graz. After my change to the University for secondary teacher education Graz I took my last chance and decided to spend a semester in Oslo. The process of organisation and application was well organised by the home and the guest university. But there are a lot of things to do and you should start early enough. It´s important to check the Mobility Online Account regularly, to be sure that everything is going well (I had problems with my Learning agreement after I came to Oslo, because it was not signed by the receiving institution). It is important to accomplish all the organisation before you leave, because it is more difficult to manage it from abroad. I recommend to be in personal contact with the people from the international office at your home university. If you have any questions, go to their office and ask. Normally it is easier to get the right information in a personal conversation.
There are a lot of deadlines you should not miss (Learning Agreement, Applying for housing, Applying for the courses at the guest university,...). When you are registered at Hioa, it`s easy to manage all the further organisation, because there is an official page called "MyPage", where you can handle everything. I had the posibillity to apply for six housing opportunities. You get an offer for one and you have to sign a contract. It´s important to fill in the right termination date. On "MyPage" are a lot of useful informations on student life in Oslo. You can register for sport activities, which are really cheap, or you can have a look at the menus of all the student restaurants on the different campuses.
You have to pick up your keys at the SIO-office at the Campus of Oslo-University. It is easy to find. Afterwards you can move in and stay in contact with SiO by using mypage.
Travelling to and arriving in Oslo
I decided to travel by car, because I wanted to take all my sport equipment with me and I also planed to travel a lot throughout the semester. I wanted to have the possibility to make a lot of trips in the great landscape around Oslo and the south-west of Norway. I started my trip to Norway together with a colleague fom my home institution, who was going to spend a semester in Carlstad/Sweden. The first day driving to Hamburg was long and very exhausting. We spent two days in Hamburg visiting friends of us. Then we continued the journey up to the north. We were travelling through Denmark across the Öresundbridge and stayed one night in Malmö/Sweden. We walked through the city and visited the main sights. On the next day we drove up to Carlstad. We were welcomed by the Buddies of my colleague and spent the night at some swedish students in a student house. It was the first time I had to speak English and I had to get used to it. I was excited about going to Oslo in the morning of the following day. I had to say good bye to my colleague and to continue my journey on my own. It was an around four hours drive to Oslo. There were no border controlls and I arrived well at the SIOSenter of Oslo University, where I could pick up my keys for my student house and the room. The people at the SIOSenter were very helpfull and friendly. After picking up the key I drove to my student house and was searching for a place to park my car for free. You can have an agreement with a parking company, so you can park the car at your student house, but it´s really expensive. So I parked my car in a street next to the student house. I arrived in Oslo almost one week before the orientation week started, so I was the first to be in our seven people flat in the student house. My room was not really big, but it was quite ok. After two days of walking around in the city and getting to know the sights a few of my flatmates arrived. We went to Ikea together and bought the things we needed for our rooms and the kitchen. It´s easy to get to know each other, when you are sharing a kitchen. The people in my flat were from all over the world (Japan, Marokko, Scotland, Germany, Norway). It´s really interesting to live together with people from different cultures. I enjoyed it very much. It´s important to speak a lot, allthogh you are not that good in English. I think it`s the only way to improve it.
Orientation- and Buddyweek
At the beginning of the orientation week we met all the international students, who were going to study at Oslo and Akershus University College of Applied Sciences. We got general information about student life and all the other things we had to organize in the first week (registration at the police, get a student ID-Card,...). Every student was allocated to a Buddygroup of around 10-15 people. All over the week we met in our Buddygroup for joint actions. So we got to know each other very well. There were some Buddygroup-Challenges we had to solve as a team (Campuschallenge,...). It was really great fun to spend time with the guys from all over the world. The people from my Buddygroup were all joning my course "Multicultural Identity in a global world". We got tips from our norwegian buddies about where to buy cheap food and drinks and what we have to see in the city. They gave us their phone numbers and we added them on facebook, so we could contact them all over the semester. The orientation week was a good opportunity to get to know a lot of people and to get a lot of useful information for the daily life in Norway.
Review of the stay in Oslo in academic terms
It was great to take part in a course with international students from all over the world and share and learn from the different experiences with and in the educational systems from their home countries. I got to know different accesses and had the possibility to reflect on and broaden my personal accesses.
The course was very well organized. I had just one course for 30 ECTS, especially designed for incoming international students. Different professional competences were contributed in the lectures by speakers from different fields (pedagogics, psychology, religion, sociology). The lecturers tried to create an open and welcoming atmosphere for the students and tried to encourage students to share their personal knowledge and experiences in various discussions.
I had to read and prepare a lot to make it possible to follow the lectures and to paticipate actively in the discussions. I had to buy some books and also had to read articles on an online platform of Hioa. The online platform was very useful to gain all the information about the course and stay in contact with the student colleagues and the lecturers.
Under the course we made a few excursions to museums and charitable institutions in Oslo. I am working for a few benevolent institutions in Austria so it was interesting to see how they work and function in Norway.
I had to write a short and a long report and take an oral exam to reach a course assesment. It was really elaborate for me to write my first scientific paper in English. It took me a long time and a lot of personal effort to finish the first short report. It was getting easier to write and read in English later on in the semester. We had to hand in our reports on the online platform and also got the information about our grades there.
We had to prepare ten topics out of the course literature for the final oral exam. This ten topics covered the teaching content of the whole semester. It was a challenge to sit in front of two professors and speak freely about a scientific topic in another language than in my mother tongue, but it went pretty well and the atmosphere was friendly and appreciative.
It would have been nice to have more contact to students from Norway, but we only had one norwegian colleague in our group.
Review of the school practice
The school practice was included in the course. Everything was organized by the responsible person for the course Kiristin Wolf. The school practice included four weeks with three days. We only had to contact the responsible persons in the schools. I visited four different schools all over Oslo. It was interesting to see diverse schools with students with different cultural and social backgrounds.
In my first week I visited a school in a part of Oslo with a strong resident majority of people with migrant backgrounds. I joined classes of different teachers and age groups of students. It was my first insight in a foreign school system. Because of my missing Norwegian skills my task was to observate the structures, learning and teaching methods, students and teachers behavior. I had the possibility to see different teachers in different subjects. The teachers were strived to teach in English as much as possible. I was surprised about the excellent language skills of teachers and students. The teachers interest in information about the austrian school and educational system was differed from teacher to teacher. I had the possibility to ask a lot of questions about the norwegian system, both to the students but also to the teachers. The students were very interested in getting to know me and my social background. I had a few really nice conversations with them.
The second week in fieldwork I visited a school in the suburbs from Oslo. I had the possibility to see and take part in a few physical education lessons. Because of the good English language skills of the students I could teach and instruct a few of the exercises. It was interesting to experience a teaching situation in a different language and with students with a completely different social background. I enjoyed the time at this school, because the teachers were very interested in information about Austria, our school system and my personal background. The school was also endeavored to implement inclusion. There were a few things I can use in my future work as a teacher in Austria.
The third practice week was the most impressive and enjoyable time in norwegian schools. The school was located on the other side of the Oslofjord and I had to go there by boat. It was kind of a countryside school with a stunning landscape with lot of natural space around the school, where the children could spend their breaks. The teachers used the possibilities of nature around school and tried to organize their lessons in a way to include a lot of excursions. I saw a lot of teaching lessons where the teachers used modern methods. I was surprised about the appreciation of diversity in the classes. The teachers tried to take up the different cultural and social backgrounds of the students and included them with honest interest into their lessons. Both the teachers and the students were absolutely interested in my origin and my background. I had a lot of fruitful conversations and had a few possibilities to teach a sequences in dfferent lessons.
In the fourth practice week I had contact with lived inclusion. In the class was a deaf student and it was so nice to see how an esteeming sorrounding influences the mutual behavior of students and teachers. Individual support was very important. The students had a lot of space to work on their interests and to share them with their classmates and the teacher. I learnt a lot about the structure of norwegian school and educational system out of conversations with teachers and the headmaster of the school.
It was absolutely interesting to see another school system and how teaching works in different countries. It was great to reflect on the experiences in fieldwork with my classmates from all over the world at university. It was possible not only to get insights in norwegian school system, but also in all the school systems my classmates have experienced. I learned a lot about my own person but also good practice for my future work as a teacher in Austria. If there will be a possibility in the future I can imagine to work as a teacher in Norway for a limited time.
Review of the stay abroad in cultural terms
The cultural differences between Austria and Norway are not that big. You have to get used to the case, that the Norwegians are distanced in the beginning, but when they get to know you better they are very kind and warmhearted. It was a little difficult for me to get in contact with Norwegians, because there was only one norwegian student in my course. The Norwegians organize their private life in small organizations like clubs or societies. The members of such society are often a circle of friends, who spend time with each other. I joined the running group of Hioa and was very happy to win a few norwegian friends out of the members of the group. The often go out together or organize special evenings with each other.
The Norwegians are open-minded, active and outgoing. There are thousands of people doing cross-country skiing or running out in the close woods and mountains every day and in all weathers. The norwegian society attaches a great importance on sport and fitness. They like the stunning landscape all over the country and spend a lot of time outdoors with their whole family.
Almost every norwegian family has a so-called "Hyttta" somewhere in the deepest countryside. They spend their holidays there, living on a few sqaremeters, without electricity, running water or a water toilet. They enjoy the silence and the beautiful landscape with their family. Cross-country-skiing is really big, they start with two years of age and end dying on their skis ;).
If you are in Oslo you have to visit a sport event on Holmenkollen in winter. The Norwegians go really crazy and spend days barbecueing in the snowy woods and whooping their nordic ski stars. That is quite typical norwegian and every visitor has to experience that. I can highly recommend it.
Review of the stay in social terms
It was great to live in a flat with six other guys from all over the world. We had a really nice time together and tried to undertake a lot together. We made a few smaller trips (around Oslo, Southwest Norway,...), but the best was, that we tried to cook together once a week. We had a few nice dinners with traditional food from our homecountries. I made deep friends just by living together in a flat with a few guys.
The buddy week in the first week at university was really great. I got to know a few of my future classmates and also a few norwegian students.
I can recommend to join every event organized by the university or any student society. It is really a good possibility to see a lot of the cities sights, meet nice people and make friends. And you can get something for free (entries to cinema or museums, food,...).
You should not sit at home, because every hour you spend alone at home, you miss some great student action all over the town. I enjoyed to go outdoors and experience the most beautiful nature I have ever seen. The Norwegians are completely different, when they are outdoors. Everyone is greeting you and enjoying life.
I made my best friends at university. My classmates were really great. I will remember our trips all over Scandinavia my whole life. The best trip was the "Hyttatrip" to the cabin of our norwegian classmate. We enjoyed a few days in the middle of nowhere, with supernice people, great landscape and two stunning nights with nordic lights.
I had no norwegian phone number, but I stayed in contact with my friends by using social media. You can get Wifi almost all over the town.
Did you gain any learning experiences you wouldn't have gained without staying abroad?
The greatest learning experience was to be in contact with so many nice people from all over the world. You gain insights in different cultural affected ways of thinking and learn to reflect on your own way of thinking.
I definitely learned to organize my life and be responsible for everything in daily life, beginning with shopping of food, doing the laundry or handling with a different language in academic terms.
It was really interesting to get insights in another educational system and the working methods of teachers in Norwegian schools. I tried to connect my experiences from Austria to the new experiences from Norway and gain a personal benefit for my future work as a teacher.
Do you think staying abroad provided benefits for your future job (as a teacher)?
The insights in a different educational system made it possible to reflect on the structures and methods which are in use in the Austrian school system. I learned a lot of armamentarium to use in my future life as a teacher.
The multicultural atmosphere in my student group strengthened my opinion that the social coexistance of humans with different cultural background in a society is a great enrichment for every society.
Finances
I knew before, that life in Oslo would be very expensive. So I tried to save money by travelling to Oslo by car and taking a lot of things with me (bike, food, a little bit of alcohol,...). The journey to Oslo was adventurous, but absolutely worth it. All the costs for the journey were separated in two, because a student colleague of mine joined the ride spending a semester abroad in Karlstad/Sweden. The journey was around 175 € for each person.
I can highly recommend travelling by car, because you can save money at your trips in Norway. If some friends of you join your trips, you can share the costs.
If you travel by car, you have to think about the high costs for the fuel (1,2 to 1,4 €) and the toll (bigger streets and bridges, tunnels). You have to register your car at the toll authority in Norway (photos of the number plate are taken at the toll stations) and after a few months you get a digital invoice. A trip from Oslo to Bergen and back for example is around 40 to 50 €. It was possible to park the car in the streets around the Sogn student house. But you have to be careful of the dates for streeet cleaning. My car was once confiscated and I had to pay around 300 €. :(
The costs for the student houses differ, if you want to be in the city center and if you want to have your own bathroom and kitchen. I took the cheapest offer. Sogn student house is in the northern parts of Oslo. I shared my bathroom with six others. The room was around 300 € a month. There were no additional costs.
There are a few different grocery stores where you can buy food and everything you need for the household. Most of my things I bought at the grocery store at my student house or on the way home from university (REMA 1000 or KIWI). The grocery stores have applications where you can find informations about special offers. It is worth the effort to compare different prices at different grocery stores, because food is really expensive.
I had to pay the rent for my flat in Graz too. All in all total my costs for one month in Oslo around 1000 €.
Everyday life and useful tips
I lived in Sogn student village in the northern part of Oslo. I enjoyed it very much, because the sorrounding is very green and it is just a few hundred meters up to Songsvann where you can find endless cross-country-ski, hiking and running tracks. The nature is stunning beautiful and easy to explore. The rooms in the student house have around 12 sqaremeters. I shared a bathroom and a kitchen with six people. It depends on the flatmates, but I never had any problems with hygiene or noise.
If you want to make sport you have any possibility at SIO Athletica, the sport department of Oslo university (any kind of sport). You can get a membership for around twenty Euros a month and can use all the offers as often you want (gym, swimming pool, sauna,...).
Oslo has a lot of sights and museums. There are a few offers every week where you can get in museums for free. I can recommend to visit as many museums as possible, especially the Kon-Tiki and the Jewish museum. The Nobel-Prize museum in the city center has various exhibitions all over the year. The munch museum varies its exhibitions every three months and is absolutely great.
I loved the city center of Oslo. It is modern but also has older and really beautiful parts. The opera house at the Oslo Fjord and the City hall are absolute highlights. It is nice to have a walk along the Fjord, in summer but also in winter.
If you have the ticket for public transfer you can also use the boats to the islands in the Oslo Fjord. Especially in spring and summer they are really green and you can enjoy a day in the Oslo sun and swim in the clear but very cold Fjord.
In the modern parts around the Oslo opera house you can find a lot of nice spots to chill and have a nice time. There are thousands of people in the summer enjoying the sun and the Fjord.
One of my favourite spots in the city is the Vigelands park. Hundreds of beautiful sculptures in a landscape with really old trees and a lot of space for activities (running, barbecue,...) makes it to a liked place for the inhabitants of Oslo.
I can´t mention every spot you should visit while staying in Oslo. They are too various. Oslo is absolutely great and you will gain unforgetable experiences living there.
Reflection on the semester abroad
It was one of the best decisions in my life to take the chance to spend a semester abroad. It was a priceless experience I would never like to miss. To live in another country for a longer time expands one´s horizon and amplifies your personality. I think that every teacher should spend some time in another country getting insights in other educational systems to get new views on his/her work in classrooms and the structure of the system. I learned a lot about myself and profited of being on my own in another country and having the possibility to live half a year leaving all the daily life back home. It left my more conscious about myself and the structures in my surroundings.
One of the best things of the semester abroad was to get to know so many people from all over the world and to recognize that we are all quite the same. I hope to stay in contact with all this stunning people and see a lot of them again.
It was great, but it is also nice to come back home!!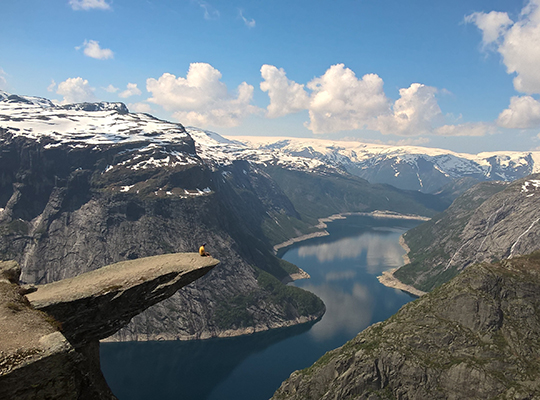 Unbelievable hike to Trolltunga/Norway (Image Paul Neumeister)
Proofreader: Sabine Kernbichler