Mariola Rodriguez Sacaluga, Universidad de Las Palmas de Gran Canaria, Spain, Mobility for Study, Incoming, PHST
My Erasmus in Graz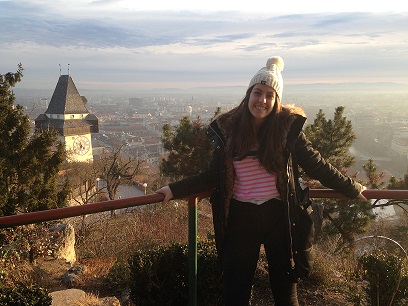 (CC by Mariola Rodriguez Sacaluga)
My name is María Dolores but, everybody called me Mariola. I am 20 years old and I study Primary teaching in the University of Las Palmas Gran Canaria. This year, I decided to take part into the Erasmus project to move abroad for some months. In this chapter you will know a little bit more about my experience during this period of my life.
Why Graz?
After a long time thinking about which place to choose, I finally decided that Graz was the one. At the beginning it was not an easy decision as you have to take a lot of details into account. I spent a lot of time trying to find information about some of the possible places. It was a friend of mine who told me about this city and, after looking about it on the computer, I couldn't resist choosing it because of how beautiful, clean, organised and calm it looked like. Moreover, Austria is a country that is known because of its good Educational System and the good level of English.
The University college of Teacher Education
This university is perfect to do an Erasmus due to the fact that it is a very well structured organisation. Every time you have a question concerning to whichever topic, you only have to write an email and they answer you immediately and help you.
They offer you a special program for Incoming students in which you can learn about 'International teacher Competences'. It includes courses based on learning about Europe and its programs, working in an International team, it provides you tools and activities that you can use in your future as a teacher and, of course, learning languages and cultures. You can also do some practices in an Austrian school so that, you can learn how schools works from the inside. I had the opportunity to be in a bilingual school and I learnt a lot of activities and methods to teach English as a second language.
They also let you study some courses that the regular Austrian students have. In my case, I chose courses about painting, role-play, rhythm, more English and Montessori. With this, you can learn about what you like to include it in your teaching. It was great to be able to do it.
Life in Graz
Graz is a very young, kind and sporty city. For me it is a perfect place to live in because it is not overcrowded, it is a very green city and the people who live here is really nice even if you are a foreign person. From the first moment I felt really comfortable living here and that is the most important thing.
There is an organisation called 'ESN' that you can join and in which you will have some facilities and discounts and also some trips, parties and activities organised by them. And you also have some buddies from the PHST who organise great activities like bowling, going to the chocolate factory or the wine route and are there to help you with what you need.
According to the money, you can really not spend a lot of it if you know how to manage it. There are some cheap places to buy food and to eat outside as well. There are good connections to the cities next to it to travel and you can find some activities to do inside Graz to not to get bored. The buddies and the University will help you with this at the beginning of your stay.
But the best of the best that you get home after all are the international people you meet. Sharing everything with them abroad, experiences, food, opinions… makes you feel closer to them and you form friendships that you know will last long. It is sad when you have to say goodbye to them but, you know you will see them again to show them the place where you were born and to see where they did or to know another country.
The only negative aspect that I found about Graz is the weather. It wasn't that bad but I'm not really used to the cold. So, even though it was nice to experiment the autumn and the winter for the first time in my life, some days it was too much for me.
Conclusion
I enjoyed this experience a lot, it makes you feel more independent and it also provides you some knowledge about other places from Europe and so, you have a more open mind after that and about another type of education from which you can take the aspects you like the most to incorporate them to your way of teaching.
It is something I really recommend for every student from Europe. Not only because of the academic part, that I think that you can really learn and improve a lot of aspects, but also because of the social and cultural one.
The only thing you should know before is that beingan Erasmus is not all about parties, speaking only with people from your home country and travelling around every country of Europe every week, that is good too but, if you just do this, you will be just in a long holiday. Being an Erasmus is also learning new languages, knowing international people, cultures and different points of view and studying courses that you don't have in your home University.