Daniela Theresia Triebelnig, Universidad de Huelva, Mobility for Study, KPZ
This should be done before going abroad
Contact:
University of Huelba Departamento de Education-Factultad de Ciencias de la Educacion- Campus "El Carmen"
Coordninator:
Telefono: +34959 219245
Fax: +34959219224
University of Huelva:

The University of Huelva has arround 12.000 students and over 1000 students how are a part of a exchange program Most of the students are from spanisch speaking countries or from italy.
In Huelva exists three Campus
1. "Campus el Carmen":
This campus is incredible big and he consists of many diffrent buldings and faculties. You can select a lot of diffrent studies. The Campus has a big librar and two cafeterias. You can eat there really cheap, but it isn´t really healthy food. Otherwise there are a "Dia" and a "Lidl" next to the University. Also there is a big shopping center next to the University. So you will never be without a lunch.
2. "La Merced":
It is the Factulty of Business Sience in the city center of Huelva. Most of the Erasmusmeetings are there. For example all travels with ESN start there.
3. It is the Polytechnic and located in "La Rabida", next the "museo de de cristobal colon" and the industrie of huelva.
University courses:

1. Spanish A1
2. Attention to diversity in early childhood
3. Especialisacion Futbol y Voleibol
4. Nuevas Tendecias actividades fisicas expresivas
Registration:
You can find all informations about the registration on the plattform of the University. Only tipe in Google: University of Huelva Erasmus. So you will find everything.
http://uhu.es/english/erasmusplusincoming/
Afterwards you have some meetings or deadlines you have to follow.
Finances:
All in all I can say that the south of spain is really, really cheap, if you compair it to Austria.
For example one fresh orange juice you only pay 2 Euro (05 l) In Austria you would pay 6 Euros for that. Also going out for dinner is really cheap. If you go in a normal restaurant, you have have a starter, main dish and dessert, of course included a drink for 10 Euros.
But try out in Huelva:
Kalaka vinos y tapas:
This is for me the best restautrant. You can eat there the typically tapas of spain. It is a little bit more expensive , but the best food i have eaten. You can try there the spinach salat. You can compair the price with austria. This restaurant is located in Av. Martin Alonso Pinzon , 20, 21003 Huelva, Spain, so directly in the citycenter.
room:
Normally prices for rental room is 160-200 Euro, but without water and electricity bills. They are coming all two months.
I payed 220 Euro for a big apartment. I shared it with two other people and the had a extra guestroom. So all our visitors could sleep there.
Puplic transport:
The puclic transport is really bad and expensive in Huelva. Only the way to Sevilla is good organised. There are all hour one bus. But if you want to go more far away there is only one bus a Day. So check it out before. Also the bus to the University is really expensive. Normally one ticket is 1,20 Euro. If you have a card of the busstation it is 0,75 Euro for every way.
Really expensive:
Skincareproducts are really expensive in Spain.
Review of my study abroud in academic terms:
I arrived at the 7 of feburary in Huelva. And i startet to search for courses at the 8 of feburary. At the first day you have to go to the International office, who´s located next to the big cafeteria. There you get a appointment meeting, where you have to tell them your courses. This meeting is really important. You have to go there.
The next step is that you find couses wo exists in this semester . It was quite hard for us to find the right courses, time, and room. But I think that is normal for the first days in Erasmus. One week later the normal courses start. For each course i got 6 ECTS , which is compleately differnet to our homeuniversity. But you have to do more for this credits. For example in volleybol we had to write a diary, and we had to teach one time. And the end we had a test about the volleybolsystem.
The teacher in Huelva are really openminded, relaxed and nice. Time is nothing for them. If the course starts at 13:30 it´s perfekt to be there arround 14:00. So you are definitely on time.
Social and Cultural Review of my stay abroud:
I started my study abroad at the 07. 02. 2016 at Munich. Two other students of my group hat the same flight. I had a flight to Sevilla, one of the hotest cities in Andalucia. There i took the bus to the busstation "Placa de Amas". There we met one of the best girl of all Erasmus. She is called Verena and she is from Germany. Last week I visited her in Nüernberg.
We took together the bus to Huelva. There we booked three days in a hostle. It was quite ok. It´s the only hostel in Huelva, so all new erasmusstudents where there. So you cold meet them the first day.
Me and the other two austrian girls tried to find new people to. We tought it is really nesessary for us, to improve our english, spanish. Otherwise we would speak only german.
So one of the first things we did, was to organise the ESN-card. So we could book the first trip to Marid. You can get the ESN-card for 10 Euros in their office, next to the International office.
Please: IMPROVE YOUR SPANISH, before you go in this country. Of course we also had one A1 course at the University, but it was to less time. You have much more freetime, if you can speak with the people.
Flats and living:
I was living with two other persons in a huge flat in "Calle Rabida 32". One other austrian girl and one swedish girl, how didn´t like the erasmusfeeling. She only had dinner or lunch in her room. So I always say, that I was living with another austrian girl. Everybody had his own room and we shared one big kitchen, livingroom, roof top and a huge bacony. Yes our flat was really big. The best to study and having Erasmusparties. Our flat was located in the citycenter, next to everything. Bars, restaurants, supermarket and partyplaces. So perfect. But we had a lot of troubels with our landlord. At the end we lost our deposite. Check out before you rent a room: Wifi, washing machine is working ...
Mobliephones-Spanish Pre Paid Card:
At the first week we tried to get a Pre Paid Card, included with wifi. It was really hard for us, because nobody spoke english, and we didn´t speak spanish. So the perfect combination. But after a few ours in the shop we got one and it was relly cheap. 10 Euros per month was enough to have concact with spanish persons and using the wifi. I also had a contract with my austrian company. So i payed 7 Euros per month more and I could talk to my family 1000 minutes per month.
Temperature and Climate:
When I was packing my suitcase, I didn´t expect such a cold coutry. We were freezing arround two moth. At the second weekend we bought one winterjacket in Madrid. The april was really rainy but the may and june were perfect. Perfect weather, to go to the beach after or between university.
Traveling and Erasmus: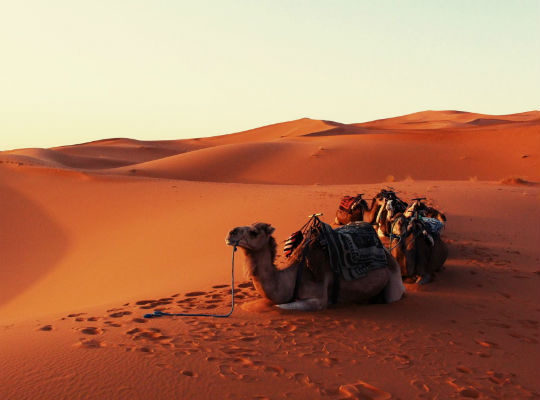 CC by Daniela Theresia Triebelnig
Traveling was the most reason to go to Erasmus. And Huelva is a really good place to go arround. I have been 13 times to Portugal. Portugal is amazing. If you go to Sagres you want to stay there for your whole live. In Spain i visited Madrid, Parque Nacional de Donana, El Rocio Sevilla, Bolonia, Cadiz, Tarifa, Gibraltar, Sanlucar de Barrameda, Aracena, Malaga, Ronda Barcelona and so on.
But my favourite tip was Marocco. I have been ther for 6 days. From Marrakesch up to the mountains and down to the desert. It was my dream to go there, and i did it. I only payed 25 Euro to Marrakesch and back 27 Euros. So the airport of Sevilla is the best decision.
Did you gain any learning experiences you wouldn´t have gained without staying abroad?
Of course, definitely language experiences. More in spanish, than in english. I took 3 courses in spanish, to hear the language. At the beginning it was really hard, but after a few weeks i could understand some sentences. We also had one spanish course at the university, but the teacher was like a military person, so had no energy to follow her. Also the trip to marocco helped me a lot, because there were only spanish speaking persons and me.
Do you think staying abroad provided benefits for your future job (as a teacher)?
Hopefully, i can provided benefits for my future job. As a teacher you can teach everywhere. So I really thing about going abroad for a time to teach.Maybe in Portugal, which is my fafourite countrie.
Did this stay abroad affect or change your personality?
"EASY GOING": This is my new philosphie. Spanish and portugies people are quite more relaxing, if you compair them with austrian people. "THEY NEVER HAVE STRESS", for them the word "stress" do not exist. Before erasmus, i was a really stressfully person. And now , nobody can stress me. It was so funny, how fast it comes, that you change. I met my friends in Barcelona. It was one and a half month after my start at Erasmus. Normally I was the first person who is ready for going out. In Barcelona they had to wait for one hour of me. Not because of puting make-up on my face. No, only the same dressing up with more time for me. I never want to change that again.
Practicing in Collego El Puntal Bellavista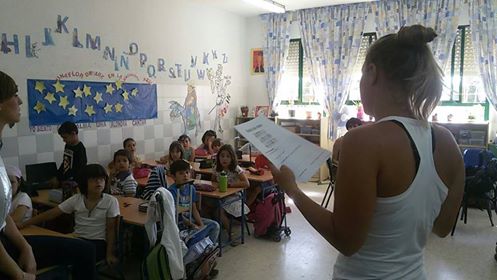 CC by Daniela Theresia Triebelnig
After one and a half month we finally got an internchip in one school next to Huelva. I always took the bike to go there. It took me arround half an hour. It was a good work out.
The first day we were 5 minutes late, of course typically for spain. Nobody recognise that, because most of them were also late. Our coordinator was really kind to us, and his english was perfect. We didn´t expect that. The principal was really openminded. Everybody wanted to help us every time. We could choose our timetalbe and also the classes we want to see. Perfect, so we could to to every subject we wanted. It was a really helpfull experience, to see also other subjects. Normally we only had to do the hospitation. But if i heard that they do not have the subject I am studing in Austria I wanted to teach. My coordinator supported me a lot. I prepared a presentation for the children, to help them to follow me better. He controled it. Each student did his own bracelet. It was such a nice experices that teaching is working everywhere.
The school is generlly not so organised like austrian schools. But what they are doing, it is working. A big different between austria and spain is, that prensentations of the student is one of the most important things they should learn. Each student has to do a presention in a week. So imagine, how good they are in this part.
We had a really good relation with the other teacher. One day they invited us to go to the mountains with them. We had a really funny, practicing english day.
I also tested the children for my final written exam in austria. Because I want to find out the differences between the style of dressing between austrian and spain students. I told the university 2 weeks before, and nobody had a problem with that.
I could learn a lot in this school. Diffrent ways to teach, spanish, because the students have spoken spanish to us, and more openmindingfeeling.