Patrick Di Battista, Windesheim University of Applied Sciences, The Netherlands, Mobility for Study, PHST
Windesheim University of Applied Sciences
Campus 2-6
8017 CA Zwolle
Internation Office
Windesheim University of Applied Sciences
P.O. box 10090
8000 GB Zwolle
The Netherlands
E-mail: internationaloffice@windesheim.nl
Coordinator: Sheila Zwanenburg
About the university
With 20.300 students, thousands of other study participants and more than 1.800 members of staff at sites in Zwolle and Almere, Windesheim is one of the biggest universities of applied sciences in the Netherlands.
Windesheim was founded in 1880. Windesheim as it currently exists was formed in 1986 as the result of the merger of several education providers. The merger was a process that took place over a number of years with more and more institutions joining.
Chosen courses
| | |
| --- | --- |
| ECTS | Course name |
| 3 | Pedagogy and Didactics in Dutch Schools |
| 2 | Career Coach Counseling |
| 2 | Dutch School System |
| 3 | Internship Intermediate A |
| 3 | Internship Intermediate B |
| 3 | Dutch Language 1: Introduction |
| 2 | Windesheim and the Netherlands, introduction module of several Dutch aspects analyses in an international perspective. |
| 3 | Dutch Society 1 |

Registration process
You can find everything from information about different studies to the "Application form" on the website of Windesheim.
http://www.windesheiminternational.nl/study-programmes/exchange-programmes/
You are always in contact with the international office and they reply quite fast and with the input/output needed.
Finances
There are 3 student housings offered from Windesheim. All are maintained by SSH – a dutch company renting flats to students – and all 3 are very different.
Talentenplein: Double room, separated beds, kitchen and bathroom shared with your roommate, about 12mins (by bike) from the university à new building, very clean, not allowed to be loud post 10pm

(Room 280, Talentenplein, Patrick Di Battsita)
Leliestraat: Double room, bunkbed, kitchen and bathroom shared with your roommate, about 12mins (by bike) from the university à old building, there are parties pretty much every day
Rijnlaan: Single room, about 30mins from university à quite new, just a few stundets there
I lived in Talentenplein, room 280, and really enjoyed it. The price is quite high with € 370 per month but the location near the city center (3mins by bike) is great and all the facilities needed, work very well. There are supermarkets, coffee shops, bars, restaurants… within a few minutes.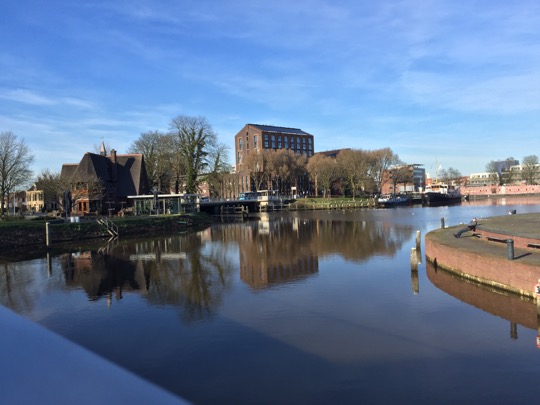 (Talenteinplein, ZWOLLE, Patrick Di Battista)
Review of my stay abroad
I learned a lot about myself. Most important I learned that home is where your heart is and (maybe) where I belong to – but that does not say anything about where I´m going to. Most of my family and friends saw my Erasmus semester as a big vacation or a way to get away from home – on some days it was. But on the other days it was hard work.
Maybe not so hard work for school but you still have to study. For me the hardest and most important thing to learn was how to deal with all the time and opportunities you have here. You think about yourself and the way your live is going on quite some time I would say. Maybe even more time you would like to, or should, think about it. All those thoughts about my family at home, my new friends here and me in the middle were so important – so important to reflect on and think about them. And at the end to draw conclusions. I can`t say anything about those conclusions at the moment and maybe I can`t say something about them in the future but all those things I did and will do, will effect my life in a positive way and this is what I learned.
What changed most is my view on friends and friendship. At home, I have the same friends for a really long time now. I simply did not see a reason to make a lot of new friends – the few I had, were just fine for me. In the last 3 months I saw that different people could be such a big enrichment for my life. Some showed me that it is fine to be childish again, some to go out and drink the whole night long – just because you like to, others shown me behaviours I really don't like and hopefully will never adopt. And the last group of people showed me that you could be an important source of knowledge they are happy to take hold on. And isn't that the one thing everybody is looking for? Being important for someone?
I might not be a different person or even a different teacher on the outside but my perspective on many things has changed – and that makes the difference.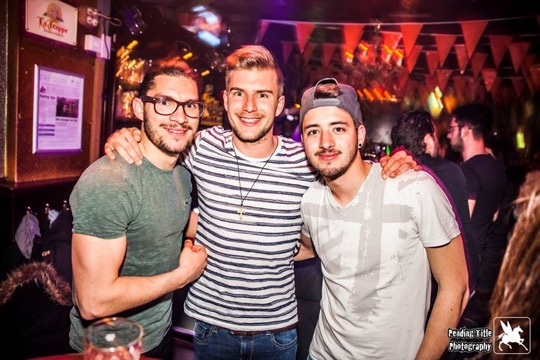 (Friends, Flying Horse)
School practice
I came to the Netherlands with the opinion that your classrooms, your teachers, your style to teach are way better than ours. This is in some aspects true, the classrooms are full of technology but you cannot use without electricity or even if just one cable breaks. If so, all those exercises which work on tablets and all the content you prepared for the smart board are useless. Worst case: there is no other option to teach the content. Because there is no chalk board or paperwork you brought in case of… I learned that I like technology I can rely on – like my chalk or my papers. A smart-board is very useful for content like pictures or videos but for my daily work I prefer the old fashioned way.
This old fashioned way also meant that I like my classroom pretty quiet – I see that as a way to show respect not only for the teacher but also for the other students. In Annette`s classroom it was never really quiet, but it was never really loud. It was at a level, kids were used to work and they worked together, they were even forced to work together. Kids should first ask their neighbour, then the whole table and at last the teacher – in this way they learn something from a classmate, the classmate learns that his knowledge is actually important and of course the teacher has a lot more time for students really in need for help. I will totally bring that home to Austria and will implement that into my way of teaching.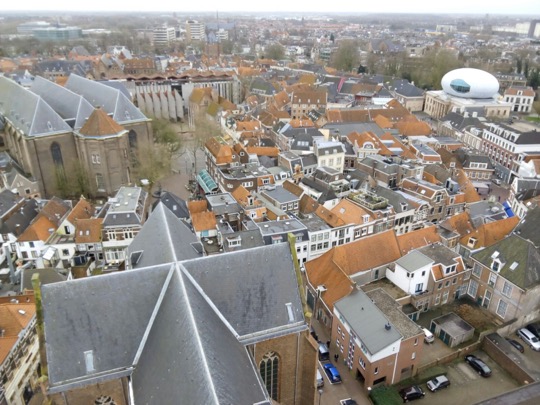 (view from the Pepperbus, ZWOLLE, Patrick Di Battista)
Tips - Stay hungry stay foolish
First: Stay in a student house! This experience with all the new people you meet is the best you can make. Of course you meet people when going to university or when going out. Living with so many strangers (for the first 2 days) and then becoming a family with all the benefits and problems occurring changed my view and behaviours on many things. Second: Be open-minded! Try everything – even if you are afraid of it. You will regret not eating, not going somewhere or not attending something when you are back home again and then the chance is lost.