Laura Atalaya Encinas, Universitat de Barcelona, Spain, Mobility for Study, Incoming, PHST
Personal Information
Author: Laura Atalaya Encinas
Gender: female
Home University: Universitat de Barcelona (Barcelona, Spain)
Host University: Pädagogische Hochschule Steiermark (Graz, Austria)
Bachelor: Primary school teacher
The city: Graz
Graz is situated in the region called "Steirmark", in the south of Austria. It is the second biggest city of Austria, but it does not look so big. It is a very quiet city but it is also plenty of live.
There are four Universities in the city, so it is a student city. You can see students everywhere, especially in the center, where they spend their free time. In the center you can find lot of shops, restaurants and pubs, so you can go to many places.
About what can you see in Graz, I would highlight the "Schlossberg", "Uhrturm", "Herrengasse", "Mariahilferplatz", "Stadpark" and "Eggenberg".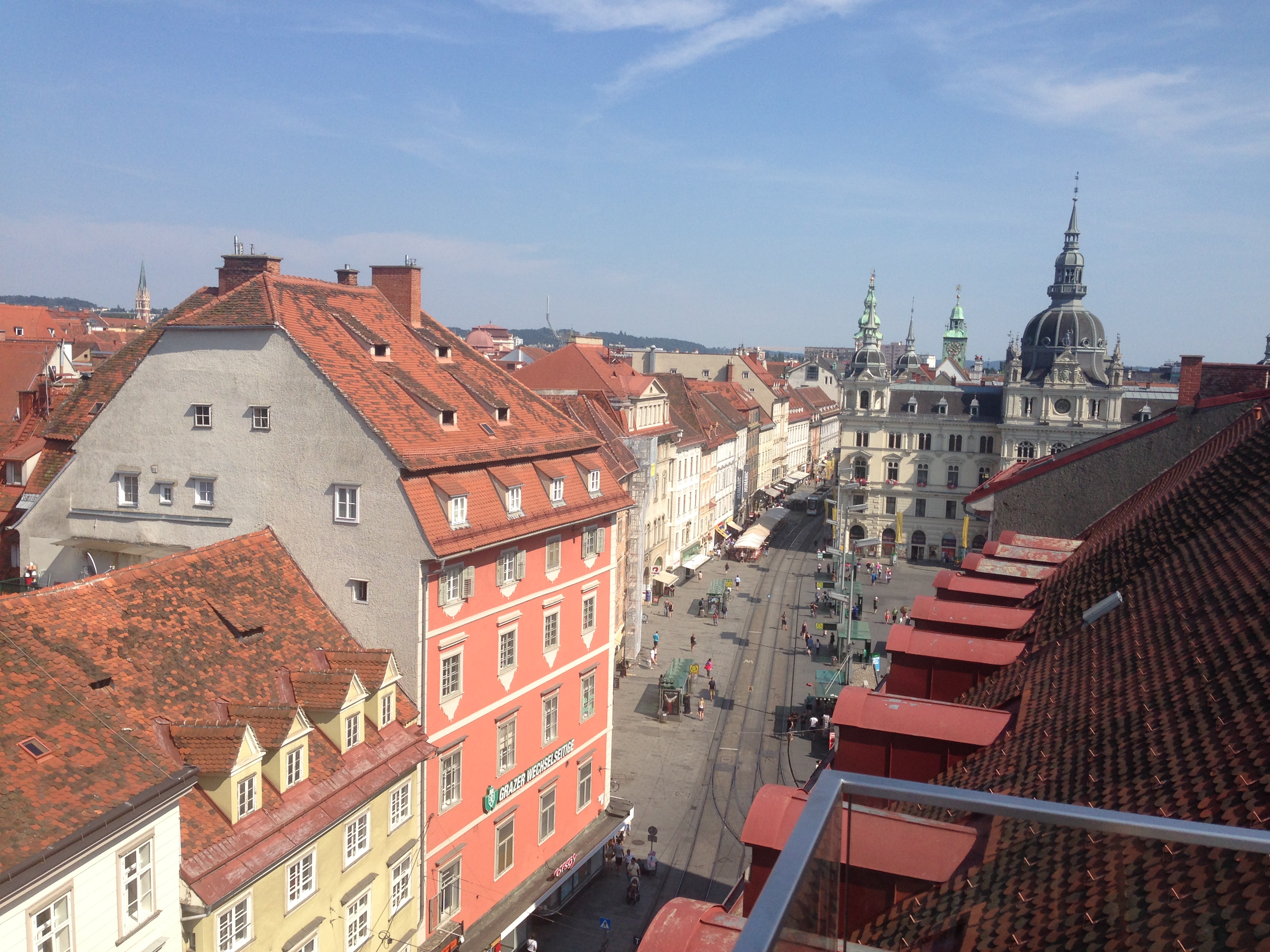 "Views to Herrengasse" Author: Laura Atalaya Encinas
The live-cost
Of course the cost of your stay will depend on how you want to live. It is clear that you are going to need more money if you like to go out every day or just frequently.
About the cost of the flats or residences it is around 250-400€ per month. In Graz there are lot of options, so you can find the best for your economy. For example, in a residence it is cheaper to share kitchen with six people than with only two.
Free time
As I said before, in the city you can find a lot of shops, restaurants and pubs where you can spend your free time.
You can find a big variety of restaurants with traditional food from Austria, Turkey, Greece, Spain, and Italy… The prices of the plates are almost the same like in Spain. There are also good pubs where you can eat very cheap. The only thing is more expensive than in Spain are the drinks.
Don't forget that in Austria they normally give tip!!! Nevertheless, the system to give tip is different than other countries like Spain. Here the correct moment to give tip is when the waiter tell you the price. For example, if the waiter says: it is 7'50€ you can say 8€ is okay.
About the nightlife in Graz, it is very active. There are many discos and great pubs where you can spend your nights. The area "Univiertel" is full of them.
Mobility
If you need to move arround the city you can use the tram or the bus. A simple ticket cost 2'20€ and a 24 hours ticket 5€. However, there are more options. You can find them in the website: http://www.holding-graz.at/linien.html
There are students' cards, as well. To get a student card you have to go to the "Holding Graz" office proving with a sheet of paper that you are student in the city. Moreover, if you are student here, you can get a discount bonus in the same web. It is a bonus of 30€ discount that you have to present in the "Holding Graz" office, too.
Another option is go on foot or use the bicycle. Graz is a bike city and you can go everywhere with it. If you are sporty, it is a good option.
Studying in "Pädagogische Hochschule Steiermark"
Hasnerplatz 12, 8010 Graz (Austria)
Website: http://www.phst.at/
Pädagogische Hochschule Steiermark (or PHSt) is a university for teacher education. It is not very big, so in every class you are going to be maximum 20 students. It is very nice because the learning is more personalized than when you are many people.
The teachers are very nice and friendly and they always want to help you. They also treat you very well so there is a good atmosphere in the classroom.
If you are an Erasmus Student you do not have to worry. The international team will make you feel very comfortable since the first time. Does not matter if you come with someone from your university or alone (like I did) because you will feel inside a small family very quickly. This is possible because the international team plans lot of activities to get know each other and also are closed to everyone. We have a Facebook group and a Whatsapp group with all the Erasmus group (including teachers and buddies) so we are in contact every day and we plan things to do together.
About the subjects, as an Erasmus students you are going to take international modules where you are going to share your ideas and experiences with the other students, in order to learn more about other education systems. You are going to take languages course, as well, so you have the chance to improve your English and German. If your intention is learn German I would suggest you to start at home because then you have a base and it is much easier to learn it.
Moreover, you have the chance to make school placement in Austrian schools and take some "optional courses" where you can be in contact with Austrian students. You do not have to worry if the school practice or the courses are in German. Do not forget that it is a very good opportunity for you. Furthermore, the teachers will help you and will give you the chance to follow the lessons. For instance, there are teachers who mix English with German language in their lessons or if they cannot speak good English, some student will help you.
The decision to study abroad
Study abroad is not easy. It is not easy to be far away from your family and friends. It is also not easy to live alone (if you are not common with it) or study in a language which is not your mother tongue. Moreover, study abroad cost money.
Nevertheless, I would like to suggest you than even if it is not easy at the beginning, have the chance to go an Erasmus is a fantastic experience that you are not going to forget.
From this experience you are going to learn the most important thing: you are going to learn about the "LIFE" and how to "LIVE". You are going to grow up and open your mind. You are going to improve all your social and communicative skills in your language and in other languages.
Erasmus for me means growing, learning, discovering and having fun. Means meeting people around the world, share your culture with them and learn from the others.
So to all the people who have doubts about studying abroad, I only can say that you should be confident with yourself because you can with everything!
Go abroad, discover the world and have lot of fun, because now it is the perfect moment to live unforgettable experiences which are positive for our professional and personal future.