Derk van Voorst, Lagere School Bondeko, Uganda, Mobility for Internschip, KPZ.
Hoofdstuk 1: Even voorstellen.
Beste lezers,
Vanochtend stond ik op en pakte een rode stift. Enthousiast zette ik een kruis op mijn aftelkalander. Een kalender die ik vorige week heb gemaakt en aangeeft hoelang het nog duurt voordat mijn reis naar Uganda begint. Over 9 dagen is het zover en zal ik vertrekken om drie maanden stage te gaan lopen in Uganda. Ik ben Derk van voorst, 20 jaar oud en derdejaars pabo student op de Katholieke Pabo in Zwolle. Vorig jaar begon het allemaal en kregen we de kans aangeboden om een stage of studie te gaan volgen in het buitenland. Gelijk werd ik enthousiast en natuurlijk pakte ik deze kans met beide handen aan. Toen duurde het nog ongeveer anderhalf jaar voordat ik zou vertrekken en nu zijn dat nog maar 9 dagen die ontzettend snel voorbij lijken te gaan.
Naast dat ik dus ontzettend veel zin heb in dit avontuur begint er langzamerhand ook wel een gek gevoel te ontstaan in mijn buik. Een gevoel van spanning, maar ook het idee dat ik straks drie maanden op ongeveer 10 uur vliegen van jullie af zit. Gelukkig zijn er tegenwoordig allemaal manieren om in contact te blijven met de mensen die in Nederland zijn en het moeten doen met de koude temperaturen, terwijl het in Uganda rond de 30 graden is op het moment.
Mijn vliegtijd op de heenweg is zo'n twaalf uur vanwege een overstap in Rwanda. Een rechtstreekse reis naar Uganda was niet echt mogelijk of zou erg prijzig worden. Terug zal ik vliegen over Nairobi en zal de vliegtijd wat korter zijn. Uiteindelijk kom ik over 9 dagen aan in Entebbe en zal ik met de auto naar dit appartement hieronder worden gebracht.
Meer verhalen, afbeeldingen en vlogs? Kijk even op: www.facebook.com/DerkVoorUganda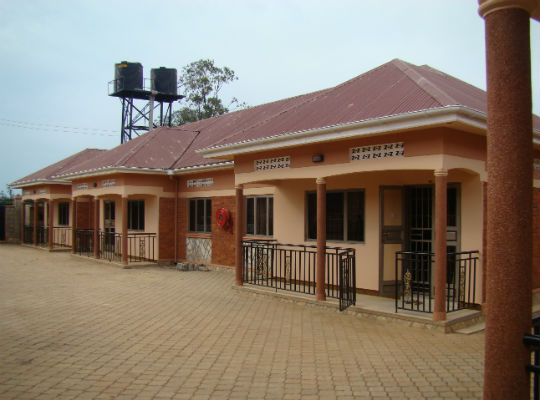 CC by Derk van Voorst