Nina Rahbar, City of London School for Girls, United Kingdom, Mobility for Internship, PHST
Author: Nina Rahbar
Reviewer: Kate Visick
Contact of the school
City of London School for Girls
St. Giles' Terrace
Barbican
London EC2Y 8BB
Responsible person in the receiving institution
Mrs Alexa Marett
Head of German
Email: maretta@clsg.org.uk
Telephone: 020 7847 5544

Description of the school
City of London School for Girls is an independent day school for girls aged 7 to 18.The school has existed since 1894. Around 700 pupils attend the school every year. These girls enjoy an academic curriculum and extracurricular activities. The school offers various clubs like netball, drama, choir, science and language club which the students attend after their last lesson on different days.

The goal of City of London School for girls is to encourage the students to be curious, creative, independent, intelligent and strong young women with positive attitudes, an open mind and respect for others.The school values are the City Girls R's: respect, responsibility, resilience.

The teachers make sure in every lesson that every girl has the opportunity to show her opinion and ask questions. Every classroom is equipped with a Whiteboard and a computer. Every girl has a tablet which she uses just for school. A special attribute as well is that the school hires native speakers as language assistant who support the students by learning a foreign language. It is not uncommon for some students to visit with their teachers for example Spain, France and Germany in a school year to practise their language skills.
The school is located in Barbican, in the financial area of London. It is also very close to the famous St. Paul's cathedral.

Description of courses/ my lessons

I had the honour to be the German language assistant in CLSG from October 2015 to May 2016. I taught girls between the ages of 12 to 18 years. Mostly I helped the students with their oral skills in one- to–one- lessons but I also supported the teachers in the classrooms.

The English school system is very different to Austrian. Teachers have their own room and the students change the rooms for their lessons. The forms are named after the years, for instance "Y13" means that the girls are in their last year of school, they doing their A-level(Matura) at the end of the school year.
A whole school day has 8 periods. The school starts at 9:10 am and ends at 4 pm. From1 pm to 2 pm is lunchtime. There is a cafeteria where the students can eat. Twice a week, on Monday and on Friday, there is an assembly in the morning. So the school starts 20 minutes earlier.At the assembly students get important news concerning the next days and there are always some presentations about school trips or projects. After the last period girls can join in various clubs.
Next I am going to describe my lessons.

Y 13
During the one- to- one- lessons with my Y13 students we discussed topics like animal testing, nuclear power station, homeless people, the fashion industry, the death penalty, and environmental problems. My students needed all these topics for A-levels. My students and I tried to find pro and contra arguments for every topic and had interesting discussion on provocative issues. I taught them new vocabulary and phrases and I tried to support them by encouraging their speaking confidence. For the 6th formers it was very important that they became fluent in German and felt comfortable while talking.

Y12
During the one-to one-lessons with my Y12 students we talked about different issues like family, friends, future plans, fashion, music, renewable energy and environmental problems. We also practised their speaking, conversational skills with the "Speaking cards". I helped them to find good phrases for oral exam like: " Meiner Meinung nach… Laut der Studie… Es ist nicht zu leugnen.."

Y11
The teacher told me the topics and practised them with the girls. Mainly I helped my pupils to improve their speaking. We studied the answers for the exam questions. I only talked at the same time with two or three girls.

Y10
The teacher sent me small groups of students. I tried to help them to improve their oral skills. We talked about different topics like sport, holidays, food in the German speaking world, friends, healthy life style and family. I always tried to do something fun with the girls like playing a game or preparing a small dialogue.

Mentoring
I offered mentoring at lunchtime. Students could pop in if they needed help. Mostly one girl visited me at the library and we practised speaking and grammar. A few days before the exam many girls accepted my offer and popped in.

German fun Club
Girls from Year 7 and Year 8 join in this club. We played many games and had a lot of fun. I liked the club because it was my only chance to teach German to young children.

Grammar Club
In this club I tried to answer all the questions about German grammar. Believe me, it is hard work to find a good answers for the questions like "Why do Germans need 4 cases? Why is there a zu in front of sehen in the sentence: Es ist schön dich zu sehen? Why do you call it der Mond (In every other language it is die Mond)?

Comparison of my Austrian and English teaching practice
Basically I practised German conversation with small groups or I helped to improve the German skills of my students in one- to one-lessons in London. Sometimes I talked with the whole group about Austria or another topic like Austrian artists and played games.

I have learnt a lot in this year. Mainly I have recognized how important a good relationship between student and teacher is. A good relationship is the basis for learning..

Differences between schools in Austria and England

Austria
Teachers move every lesson to another classroom
There are no all day schools (I haven't any experience with that in Austria.)
There are no uniforms.
If teachers have breaks between their lessons, they are allowed to go home.
If teachers are done at 12 for example, they are allowed to go home.
Lessons are between 50- 55 minutes long.
There are no detentions.
Marks: 1-5
Students have a private life, they can be kids.

England
Teachers have their own classroom, students change the rooms for every lesson.
I worked at an all day school (9 am-4pm).
Students have to wear uniforms.
If teachers have a break or they finished their last lesson at 12pm, they are not allowed to go home. They have to stay in school until 4pm every day.
Lessons are between 40 -50 minutes long.
Marks: A-F
There are detentions every week.
Students learn and study the whole day at school and then they have to do their homework and learn. My students told me that they studied every day until 11 pm (Years 11- 13). Also at the weekends they have one study-day. The second day my girls played sports or they did charity work (helping homeless people...)

Description of the registration process at the host organisation
I had to fill out many different forms. Most important was to get the National Insurance Number and my DBS-Check. I needed those to get a bank account and without a DBS-Check I would not be allowed to work with children. It took a few weeks to get the forms; I also had to do an interview for my National Insurance Number.

Finances
London is a very expensive city. Especially the rent is horribly high.

Rent just for a room per month: 450- 800 Pounds per month
Public Transport in London: 1-3 Zone 150 Pounds per month
Food: It depends where you are going, Lidl is the cheapest shop, Waitrose is the most expensive shop. I needed around 50 pounds every week.
Restaurants and Pubs: Those are not for a low budget, but are worth visiting.

Useful tips
If you are looking for accommodation in London, it is the best to join in several groups on "Facebook" and create a profile on "Spareroom". You can find easily a room but my advice is that you visit the room, house, flat and the area before you move in.
You can book cheap train tickets on the website "trainline". Coaches are sometimes cheaper but slower (check out "National Express")
There are many nice and good restaurants in London. "Wheterspoon" pubs are cheap and the food and beer is alright.
You can buy early-bird tickets for shows at theatres or you can try to get ticket at a box office for the same day.

Review of the stay abroad in cultural terms
London is an amazing multicultural city and has a lot to offer. Every district is different and you will meet people from countries all over the world. I spent my free time exploring London. Mostly I went sightseeing and visited museums. Below you will find my favourite places in London.

1. Brick Lane: This is a very fancy area in East London. There are many restaurant, coffee shops and second hand and vintage shops. At the weekend there is a flea market, a food street market and an art market. Many young people spend their free time in Brick Lane. Also there are always musicians playing on the street. The walls of many houses are very special- they are decorated with graffiti, you can find some of the famous street artist Banksy.
2. Parks are wonderful in London, especially a walk in Hyde Park is always a good idea.
3. London museums are stunning. The admission is free and you can spend hours there. Also the late-nights are quite interesting. Tate Modern Art and the National History Museum are my favourites.
4. Camden Market: This market is a great place to buy souvenirs.
5. The Scooter Cafe in Waterloo is my favourite place for a traditional cup of tea or an English hot chocolate. It is a colourful, small cafe with great prices. Because I love cats- at the cafe there lives a cat!
6. Kew Garden: A dream for gardening lovers.
7. Brought Market is the best food market in London. It is worth a visit.
9. See a show at a theatre: I recommend seeing some shows. I tried to go every second month and enjoyed it. Every play is different but honestly the money is worth it. I am crazy about the costume and the design of the stage.
10. Fight against homesickness: At Angle (Angle tube station) there is a restaurant and Viennese coffee shop called "Kipferl". It serves typical Austrian food like Schnitzel, Apfelstrudel and Vanillekipferl.

Review of the stay abroad in social terms
It is very easy to meet people in London, go for a coffee together or have a chat at a pub. But in my opinion it is very hard to make friends. I met so many different people because of language exchange meetings (over 20 people). However I just met them once or twice. It seems that they were not interested to keep in touch in a long run. Besides it appears to me, that men are not able to be friends with women. They always have other thoughts.
At the end I have two English friends, who I meet frequently while my time in London. I am very glad that I met them, I always had a great time.
I also met different language assistants form all over the world but in the end I met every week two other German assistants, who did not live in London. I met them at a workshop for German assistants in London and we went on some trips together. I think that we will keep in touch back in Austria.
At school I had good chats with the other German teachers and with the other languages assistants but we did not meet really in my free time.
Because of my landlady I learnt a few things about English culture.
Overall English people are very friendly and helpful but it takes a long time to know them well.

Finally...
I don't want to miss any day of my time in England. I loved the great moments and I learnt to appreciate bad situations. I have learnt to handle everything by myself. I am grateful for getting to know so many new people, getting new friends, getting familiar with a new culture, lifestyle, and attitude and improving my English skills.
I loved the teaching and being an assistant in such an amazing school was fabulous. It was a unbelievable fascinating time and a wonderful experience.
During my stay abroad I got stronger and braver and I believe more in my qualities.

My advice: GO ABROAD TO GROW!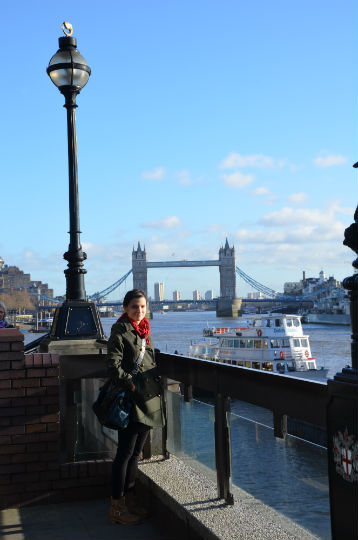 Tower Bridge (CC by Nina Rahbar)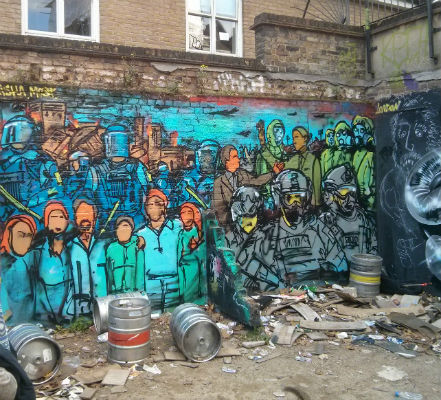 Brick lane- Streetart (CC by Nina Rahbar)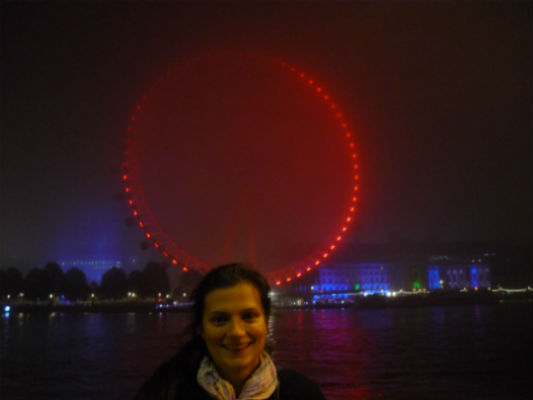 London Eye (CC by Nina Rahbar)