Dorien de Haan, Kathedrale Koorschool, Suriname, Mobility for Internship, KPZ.
Kathedrale Koorschool Suriname
Mgr. Wulfinghstraat 2
Tel: +597 472521
Internship
The Kathedrale Koorschool is a small school in the capital of Surinam: Paramaribo. This school is a primary school with children in the age of 6-12 (sometimes older) years old and the main language is Dutch. Everyday the children came to school from 07:30 till 13:30. It's simply too hot to stay in school after 13:30 (in my opinion after 12:30 ;)). The Kathedrale Koorschool (KKS) is a School of Hope and Inspiration. When children want to go to the KKS, they have to do an audition in singing. The musical teacher and the headteacher decided whether the children will be accepted (or will be denied).
Every week the children gets a lot of music lessons. They learn to sing a lot of songs, they learn some musical theory, they have choral song and they have to do musical battles against other students. I'd like all the music in this school and when I go home I know I've learned a lot about teaching children in music.
Every morning (instead of rainy days) we started in the auditorium to start the day. The children will sing the national anthem, sometimes in Dutch, sometimes in Sranan Tongo and they will pray. After that, the children return to their classroom and then the lessons will started.
In a Surinam school you have to be very strict and consistent, otherwise the children won't listen to you.
What's included in your internship?
My internship offers many new insights into teaching. You'll learn how to be very strict and consistent. You havev to teach without many material schoolstuff. Your creativity will be exploded. The KKS is a great school to have a intership, because they are very friendly and they want you to inspire them.
What does a student needed when he/she choose your internship?
I think every student must do an internshop. In Surinam you need some patience, sometimes you have to think: "let it go". You have to be motivated and when you're going to Surinam you don't want to improve the educationsystem, you have to inspire people to improve the educationsystem. Finally you have to be flexible. Every day is just an another day.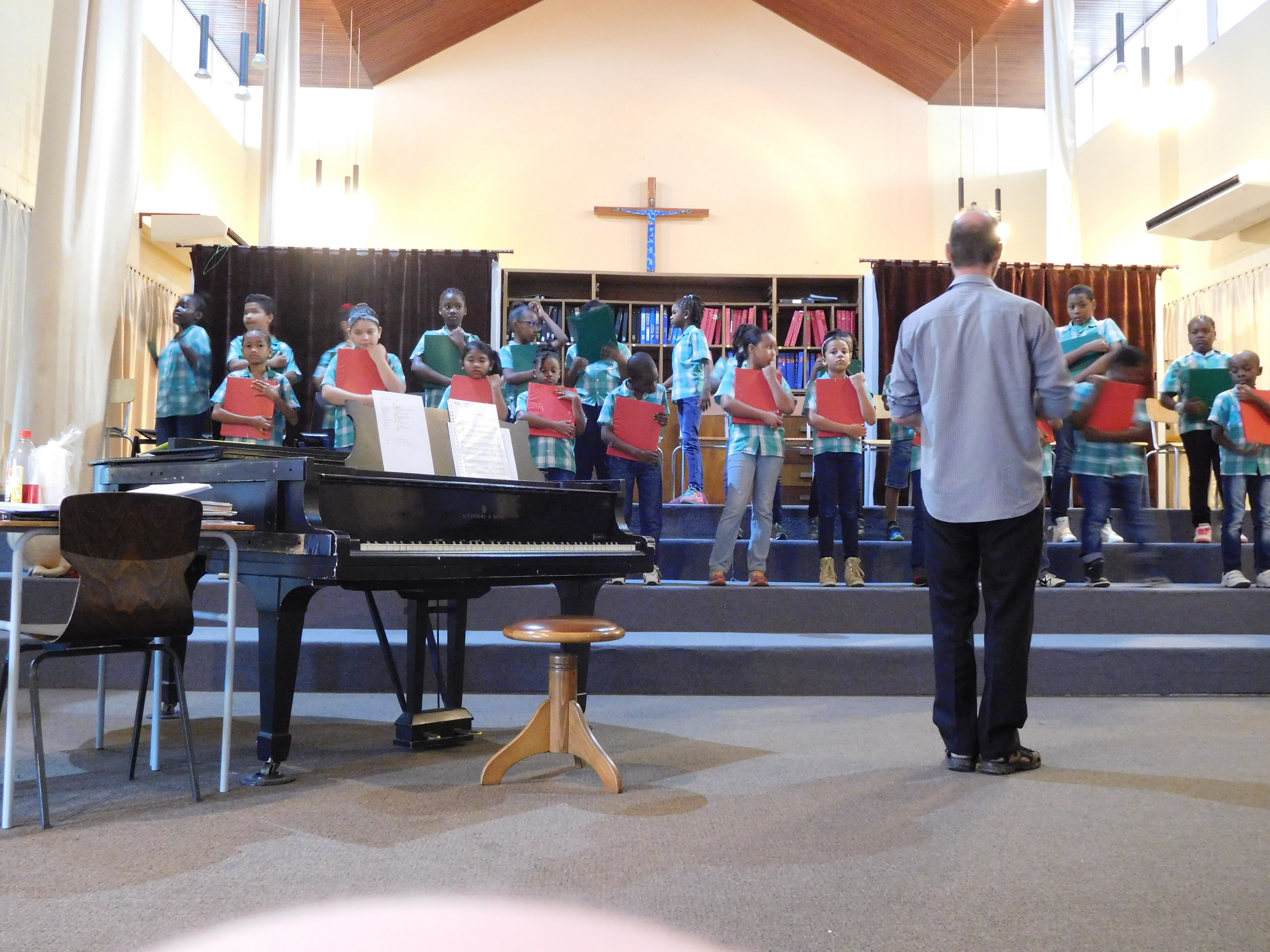 CC by Dorien de Haan
Stay in Surinam
During my time in Surinam I stayed in a house with 4 other KPZ-students. We've been staying on Fred Derbystraat 123. It was a house with 4 rooms, 2 kitchens, 2 bathrooms, 2 toilets and a swimmingpool. I paid 255 euros for a month and I think it was a realistic price. For dinner we cooked together and we bought our food in the Tulip, a supermarket and other Chinese supermarkets. The Tulip is a Dutch supermarket. We found our house on the internet, www.stagehuisvestingsuriname.nl.
Culture
I think Surinam has the most beautiful gathering of cultures of the countries I've ever visit. There are a lot of different cultures. People from all over the world with different religions and it's ok to believe what you want to believe. They respect each other and they are very friendly to everybody (something we can learn from).
Nature
When you visited Surinam you have to discover the whole country. There are a lot of beautiful places like Bigi Pan (we've seen a lot of beautiful birds over here), Danpaati (Jungle/river resort with the most lovely people I've ever seen), Bergendal (you can cross the river with a Zippline) and so many other places. Everyday its about 30 degrees so you can enjoy all this beautiful places. I also like the rainy days when you can take a shower in the garden. It's a part of the Surinam nature.
Costs
Travel: €850,-
House: €785,- (3 months)
Live: +/- €200,- (1 month)
Trips: what you want, you can make it as expensive as you want +/- €600,-
Extra: Curaçao (ticket €330,- activities +/- €200,-)
Bicycle: €60,-