Flora Bodrogi, University of West-Hungary, Hungary, Mobility for Internship, Incoming, PHST
Proofreader: Marlene Grabner
First of all, I would like to tell you, that I was here in Austria in Graz in 2014 as an Erasmus student in the summer term and it was the best decision in my life.
I think everybody should join this program, because of him/herself. I have started to live here, what I mean by saying that is that my personality has changed a lot and I have met a lot of people from all over the world. I was alone in the beginning, but I didn't want to stay in my room, so I always took out the map of Graz and just went for a walk alone in the city. When you are abroad, you will gain so much new experiences, you will use the foreign languages you speak! This is why I have improved first of all my German and after that my English skills. I have never used English before, but now I am not afraid anymore if I have to speak with an English speaker.
Don't forget: "Once Erasmus, always Erasmus". This sentence is very important for me. The Erasmus Student Network has got a promotion video on YouTube, the title is We are Mov'in Europe. (https://www.youtube.com/watch?v=RPYyYP_SpPk)
Whenever I felt alone back home in Hungary I watched this video and felt the Erasmus spirit again. This is also why I decided to do the Eramus adventure once again!
Before going abroad
Actually, I spent 14 months in my home country after my Erasmus, before I came back to Graz to do my internship. I graduated in Hungary in June 2015, I studied event management at the University of West-Hungary in Györ.
During the spring of 2015 I watched the movie often and felt that some pieces of me were still in Graz. I felt the need of travelling and broaden my mind even more. I searched for the possibilities, where I could do my internship or what other opportunities I have. Luckily, we have Internet, so everything was easier. I wrote a letter on Thursday to Susanne Linhofer, the head of the Institute of Diversity Management and International Relations of the University College of Teacher Education Styria and I got an answer on Friday: You are welcome at our university, you have the possibility to come to Graz again! I was the happiest person ever! We organized the paperwork together and I arrived again on the 25th of September 2015 in Austria.
Contact person
Marlene Grabner, BEd
Erasmus Incomings Coordinator
Institute of Diversity Management and International Relations
University College of Teacher Education Styria
Ortweinplatz 1, 8010 Graz, Austria
phone: +43 (0)316/8067-6604
mail: marlene.grabner@phst.at
home: www.phst.at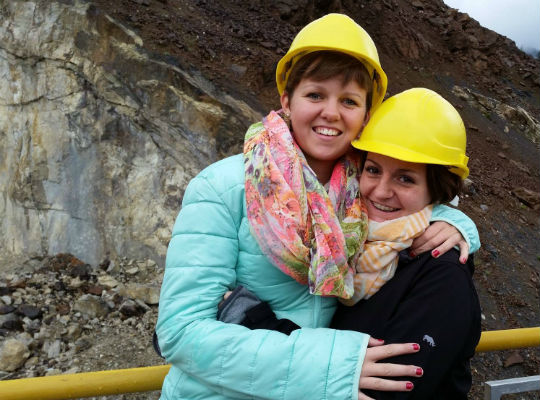 Marlene and me on the top of the Erzberg (Image by Flora Bodrogi)
Contact oft he university:
Pädagogische Hochschule Steiermark; Hasnerplatz 12, 8010 Graz, AUSTRIA
Description of the university
The University College of Teacher Education Styria is a small, but atmospheric university. In my opinion it is very friendly, colorful, the people are kind, helpful and very open-minded. There is an old building and also a new building at the Hasnerplatz. Both of them are nice, I really like the stairs, where you are welcome every day in every languages, like Willkommen, Üdvözöljük etc. The buildings are modern, there is also a cantine, gym, a big hall, where the most important events are held. In the Theodor-Körner-Straße in front of the Spar is also one building with the library and if you want to find the International Office, you should go to the Ortweinplatz, because there is the fourth building of the university and we are on the second floor. Our office is big, we have got big windows, through which we can enjoy the sunshine and of course the students are always welcome here, if they need help.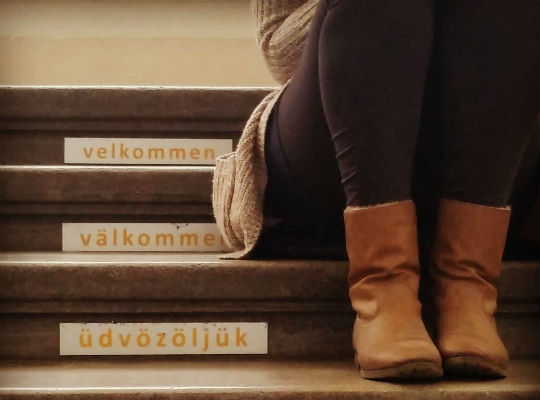 Stairs (Image by Sara Bodrogi)
Finances and travelling
Before you go abroad, you should find an apartment or a dormitory, where you can live during your stay. In Graz you can rent a room from around 300 € pro month. The border is just the sky full of stars. You will be asked to pay caution, it means about 700-1000 € for the room, but you will get this back, after you moved out and left the room as it was before.
You have more possibilities to arrive your Erasmus town. I came by car with my parents, so I brought all my staff to Austria, what I needed in this 8 months and the journey from my hometown was just 7 hours long.
Travelling by train: Budapest – Graz (one way ticket, If you buy it earlier 19 €) - 6 hours
Travelling by bus: Budapest – Graz (Eurolines, one way ticket 19 €) - 6,5 hours
Use the blablacar if you want to travel faster and cheaper!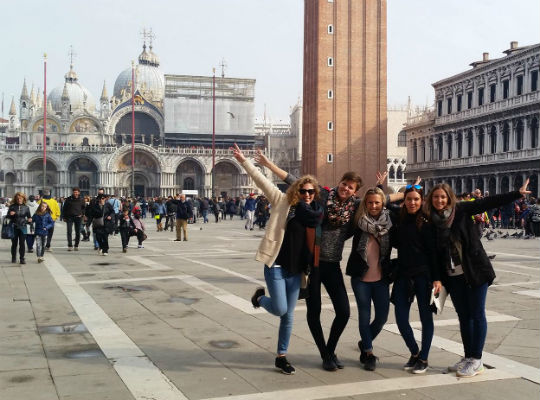 Venice (Image by Flora Bodrogi)
Activites in Graz and around the City – What should you visit there?
You are finally arrived in this city, so you should visit everything you can.
First of all Graz is the best city to live, beautiful and the city center is amazing, there is the Landhaushof, Hauptplatz, Hofbäckerei Eddeger-Tax, Burg, Doppelwendeltreppe, Burggarten, Stadtpark, Dom, Mausoleum, Glockenspielplatz, Oper, Kunsthaus, Murinsel, Schlossberg, Kastner & Öhler. Just walk alone or with somebody and you will find something that is interesting for you. I can also recommend you the Schloss Eggenberg, Basilika Mariatrost, Botanischer Garten, Hilmteich, Burgruine Gösting, Fürstenstand/Plabutsch and Kalvarienberg. You can reach everything by bike/tram/bus.
You will like Steiermark. You can visit beautiful places around Graz, what I have seen: Bärenschützklamm, Kasselfalkamm are really good for hiking, Lurgrotte cave, Stübing the open air museum, Bärnbach Hundertwasser-church, Piber lipizaner horses, Deutschlandsberg and Leibnitz are in the wein region, Judendorf-Straßengel, Rein, Riegersburg Zotter-Chocolate Factory, Eisenerzer Ramsau, Schwarzlsee, Thalersee, Grünersee, Laßnitzhöhe.
If you would like to travel more, you should visit Hallstatt, this city is as wonderful as a cartoon. Salzburg, Vienna, Klagenfurt (Wörthersee), Innsbruck, Linz, Villach are the most important cities of Austria.
Slovenia and Italy are also not far away from Graz, so you can get to Maribor in an hour, to Venice, Palmanova and Trieste in 4 hours by car, but you can also use the busses and the trains. Just travel, explore and enjoy the beauties of the countries!Try to be a citizen of the world!
About my internship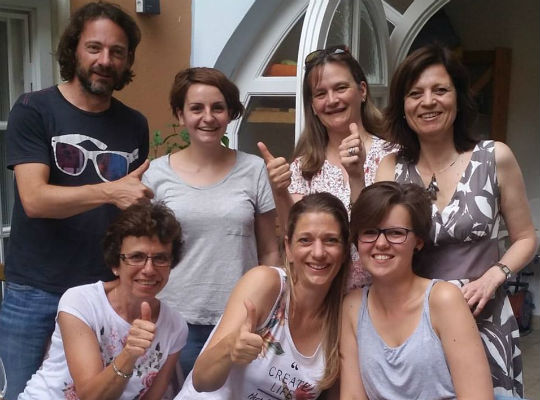 With my colleagues (Image by Flora Bodrogi)
I have the possibility to be a part of the Institute for Diversity Management and International Relations, so I am working with the Incomings and Outgoings. I try to help here in everything also to Marlene Grabner, who was my contact person in the beginning. It is so funny, because last year, when I was in Graz, she was my buddy and now we are working together and we have a lot of fun. My collegues are in the international team: Susanne Linhofer, Heiko Vogl, Sigrid Maier, Katharina Kamitz, Elfriede Koller and Daniela Samide. I am really happy, that I can work with such nice people together.
In my opinion it is very important, how they welcomed me. We had our first meeting in October together, from 9 am til evening. Then Susanne, my boss told me, that she is happy, that she can introduce me like a part of the team and she gave me a little Chocholate hart (Danke!). My first impression was so good and positive, that I can't tell you, what I was feeling there. Thank you for this!
In the beginning, I did all the work in the office like scanning, printing, sending E-mails, so administrative tasks. After that I got a task, I can write articles in German or in English - it depends on the topic - for the website of Erasmus+ Journal about Erasmus+ and studying abroad, learning languages, mobility, traveling and so on. I could never imagine before, that I can do something like this, but I like to do it very much.
Heiko Vogl is one of the publisher of Erasmus+ Journal (book and e-book), that's why I did the correction like an assistent in the Issue 3. I read a lot of interesting stories and I saw beautiful pictures.
I helped also to organize events. During the 8 months we had for example a Short movie competetion, Open House Day, ENTEP Conference and International Week. I really enjoyed to participate in this events and I learned a lot of about team work and organisation, because it is totally different to do the work in the background, to the participation. I would say, in this office we have such a strong team, that everything is possible. In the end, if you get a lot of positive feedback you realize, that your work really matters.
I also learned, how can I use the online system of the PHST, the PH-Online and the Mobility Online, where all documents of the incomings, outgoings and data about partner university is stored.
It was a pleasure for me to be live in the Radio-Igel. Once I talked about my Erasmus experiences during the Open House Day and another time, Marlene, the buddies and me made a 1 hour long Erasmus radio show, which was wonderful! It is crazy, how many people come together because of the Erasmus programme! It was something unique, what I never did before. Of course my family listened to us from home.
Actually I learned here much more, than use some programmes, because I was a part of a wonderful team. It is unbelievable, how wonderful a job can be. In the past I never thought, I can find a perfect job for me but now, I found something for me, what I love. I worked here 8 months without stress, with great and friendly collegaues, who help eachother. The atmosphere is amazing!
I made friends all over the world, I traveled a lot, I began to learn Spanish and Italian. Now I can understand the different cultures better and I am always inspired by beauty ewerywhere. Thank you for the possibility!
I can't imagine how my life would be without Graz, international people, work and traveling! Luckily I got a job here in the international office after my Erasmus ended, I can stay one year more and continue the best part of my life. So what can I say? Thank you Erasmus!