Lilith Schellnegger, University of Hradec Kralove, Czech Republic, Mobility for Study, PHST
Erasmus-Preparation
The first time I got informed about the University of Hradec Kralove was during the International Week at my University of Education PHSt in Graz.
I attended the seminar where two teachers of the University of Hràdec Kralovè presented their way of teaching and therefore their University, too. I was really impressed and liked their great sense of humour.
It might sound ridiculous, but after I recognized the ending of the name of their hometown Hradec Kràlovè includes the word "love" I felt like getting a sign of destiny. And that is the way how I started to think it over to go abroad.
So I contacted the Erasmus-office at my University and we started the cooperation for my Erasmus-term.
The Erasmus-team gave me all information necessary to go abroad and helped me out anytime and anywhere.
I had to sign several documents such as: Erasmus-agreement, housing application, student application, application for my student-card, learning agreement and an accommodation paper.
Therefore I got in contact with my coordinator at Hràdec Kralovè and she supported me all the time since then during my whole Erasmus-term in a real patient and lovely way.
Furthermore I got an ESN-buddy who took care of me before and during my whole Erasmus term.
Accommodation and living costs
After I arrived in Hradec Královè I directly had to sign in at the reception of my accommodation and had to prepay for my whole residence in Czech coronas (CZK).
Fee without VAT per night: 83 CZK / 75 CZK
Fee with 15% VAT price per night from 1st January 2013: 95.45 CZK / 86.25 CZK
(These rates are based on a one month contract)
There are two different types of room: A 2 bedroom flat and a 3 bedroom flat.
Which means you live together with three or five other students (sleeping together with one or two students in one room).
The Halls of Residence at Palachovy koleje ("The Dormitories")
The Halls of Residence "Palachovy koleje" provide all equipment and services necessary for a college student including learning and sporting facilities, and a nonstop (24/7) reception service.
Apartments at the Palachovy koleje consist of two rooms, kitchen, bathroom and separate toilet. Kitchen is equipped with refrigerator and cooker. Duvets, pillows and bed-clothes can be borrowed from the reception free of charge.
The Halls of residence area includes also a laundry room, small fitness studio and playgrounds for volleyball, basketball and rooms with a piano.
Contact: Palachova 1129, Hradec Králové (building K, room V014)
Phone: +420 493 336 000 (every day from 6 -17 o'clock)
or +420 493 336 103
Email: koleje@uhk.cz.
(list of vacancies at http://ris.uhk.cz/koleje/volnamista)
The next useful step after arriving might be to visit your coordinator to get your student card and to sign the paper for public transport to get this card (after filing), either.
Generally the cost of living are really keen but mostly you will get high quality.
If there is some help needed to get through these first processes your buddy and your coordinator will be there for you, will support, accompany and translate (for) you.
And in general the inhabitants of Hradec Kràlovè (the Czech people) are very polite, helpful, friendly and open minded (as long as you are well behaved and patient, too).
Hradec Králové
Czech Republic, a country in the heart of Europe, is surrounded by mountains from almost every side and spreads on 78,867 square kilometres. It has a lot of natural treasures located all over the country. For example: Krusne hory & Sumava (on the west), stream of the Elbe river to Krkonose mountains, the protected area Cesky raj (in the middle), beautiful and myserious Prague (main city in the middle), historical cities like Kutna Hora & Brno (in the east) and of course the lovley city Hradec Kralove (north eastern part) – attractive and various landscapes, plants, animal species.
Hradec Králové (HK) is all around a cute pleasant city with beautiful architecture with no environmental burdens caused by large industrial zones.
The cityscape is influenced by two rivers, the Elbe (Labe) and the Wild Eagle (Divoká Orlice), and by a forest-park from the south-east. There are a lot of interesting buildings & places to visit, such as: Museums, Castles (in the near environment), the Ice-hockey-Hall (with their great team from HK), the White Tower, Churches, the Art House, a theatre, a big indoor swimming pool (and many other options and locations for doing some workout), great cafes, restaurants and clubs to spend some funny and delicious free time.
The public-transport-system in HK is really oversee able and splendidly constructed and the easiest way to get a ticket is to buy it in the bus or news stand (or get a public transport-card as mentioned before). When residing in Hradec Králové, you can comfortably travel around Czech Republic and the neighbouring countries. For example to Central Europe from the nearby town of Pardubice by direct trains (to Vienna, Berlin, Bratislava, Budapest, Warsaw etc.). Furthermore taxis operate 24 hours a day and are a very popular transport especially during the "party-nights". They are cheap if people share fares (round about 100 – 150 CZK).
Furthermore HK is nicknamed as a paradise for cyclists. From a residence to the school, or to the train station, where you can leave your bike in a secure robotized bike tower, you can travel everywhere just by using your own legs.
The University of Hradec Kràlovè
The University of Hradec Králové has several offices dealing with international relations and each faculty/institute has its own international office.
Rectorate:
Veronika Měchurová
Faculty of Education:
Lucie Martinková (Erasmus - outgoing students)
Petra Nosková (Erasmus - incoming teachers and students, outgoing teachers;
non-European mobilities)
Faculty of Informatics and Management:
Michaela Plašilová (Erasmus - outgoing students; teachers)
Vendula Pourová (Erasmus - incoming students; non-European mobilities - students)
Philosophical Faculty:
Martina Eliášová
Faculty of Science:
Jana Novotná
Institute of Social Work:
Jana Popeláková
The University of Hradec Králové is a young yet established public educational institution, founded in 1959.
It consists of five parts such as: the Faculty of Education, Faculty of Informatics and Management, Philosophical Faculty, Faculty of Science and the Institute of Social Work – all of which offer studies in more than a hundred fully accredited bachelor's, master's and doctoral degree courses taken up around 9 000 students annually.
There is a rich spectrum of educational activity including fields of economy, management and computer science at the Faculty of Informatics and Management; social sciences at the Philosophical Faculty; educational and artistic disciplines at the Faculty of Education; science and technology courses at the Faculty of Science, and studies in a variety of social work disciplines accessible at the Institute of Social Work.
The student organization ESN Buddy System with Czech peers is dedicated to giving a helping hand to international students and what's more, they organize several activities like welcome-parties, city-trips, sightseeing-trips, international dinners, Czech-presentations, language-evenings, a survival-weekend and many more.
The university pays great attention to the care of its human potential including international students and employees, so all international students in each academic year are automatically booked in for accommodation at the university dormitories.
The advantage of this university is its relatively intimate environment that allows students and teachers to establish personal contact, which helps to discover each pupil's individual needs and set specific learning targets according to the student's performance and the chosen specialization.
Chosen courses
Before I went abroad I got a document for choose able courses and after choosing I got my Learning-Agreement-Paper to start studying at the University of HK.
My coordinator arranged everything to get me started.
There were some conflicting schedules at the beginning but my coordinator supported me all the time and I was able to change some of my courses and got everything I needed.
First I have to mention that each of my seminars were great, inspiring, inviting and challenging, enriching, motivating and much else! All of my teachers were professional and they were teaching with patience, mindfulness and passion for their subject!
Czech School Practice
Teacher: Mrs. Wolfova
First of all I sat in at two different classes to observe the way of teaching at primary school in Czech Republic (near my accommodation).
The teaching was really child-oriented and included teaching theory in its entirety.
Regularly changes of: social forms, activities, learning material
Learning types: cognitive (knowledge), affective (attitude), psychomotor (skills)
Active form of thinking: Creating, evaluating, analysing, applying, understanding
and remembering.
The teacher was focused and tried to apperceive the pupil`s behaviour for adapting the best next step.
After my observation I was allowed to teach (or observe) in one of these classes every week.
I really enjoyed every moment and it was a pleasure to me to be with these children and the teacher.
Special Education
Teacher: Mr. Zikl
Goals: Basic information about disabilities & Special schools for people with disabilities
Content: Disabilities, treatments & institutions in comparison between other countries (Czech Republic, Austria, Germany, America etc.)
Cerebral palsy, Autism (Kim peak), Red-Syndrome, Disintegration disorder, AD(H)S, Prada Willi-Syndrome etc.
Special School visits every second week
Assessment: Research about the topics, reading tasks, presentation (specialisationon one topic), compulsory attendance for the special school visits
Czech for foreigners
Teacher: Mr. Vaclav
Goals: Basic knowledge >> to learn the basics and useful phrases in Czech language.
Content: Greetings, introducing yourself, family, hometown & country, verb to be.
Assessment: Homework after every lesson (writing an essay)
Life and institutions of the CR 1
Teacher: Mr.Sirucek
Goals: Geography, geology, biology, social science and history of Czech Republic / Hradec Kralove
Content: Symbols & political system of Czech Republic, Historical & cultural development of Czech Republic / Hradec Kralove
architectural eras of Czech Republic, celebrities of Czech Republic with regard to the culture (painter, writer, musicians, architects,…), geographical classification of Czech Republic, Hradec Kralove, Prague – main city of Czech Republic, population & language, UNESCO – monuments of Czech Republic, resources & economy & agriculture of Czech republic, introducing my hometown
Assessment: Excursions, presentations, exam
Playing the piano
Improvisation
Accompaniments, Rehearsals
Teacher: MgA. Lenka Hejnová
Teacher: Mgr. Karel Koldinský
Teacher: Doc. Mgr. Michal Chrobák
Three individual lessons
Goals: Playing the piano, piano accompaniment & improvisation
Content: Improving musical aptitude (musical ear - listening to musical pieces & trying to infer their notes), improving your musical "mind playing", proper posture on the piano, improving left-hand right-hand coordination skills, fingering techniques, improving musical notation reading skills, improving finger placement & speed on the piano keys, different scales using proper finger placement, memorising & practice musical scales & chords
Assessment: Homework & practice
Teaching Theory
Teacher: Mrs.Vrabcova
Goals: Basic knowledge of teaching theories and its history
Comparison & reflection of your own way of teaching (Microteaching)
Content: Types of teaching, assessing your teaching style (quiz),
Book "Philosophical Foundation of Education",
A.S. Neill`s Summerhill School (advantages & disadvantages),
Terms like KSA, FEP, SEP, NEP …
ERR Framework system and cooperative learning
Learning types & taxonomy
Czech Educational System
Level of the system of the curricular documents in Czech Republic
Creating a lesson plan (including teaching theory & microteaching)
Reflexion of your own influences while being educated
Assessment: Self-contained research in all the basics mentioned before (reading skills),
5 Assignments:
Take the online quiz assessing your teaching style,
Reading at least 4 chapters of the book and comparing personalities/conceptions/philosophies
Watching a film & documentation of Summerhill School for producing a table (reflecting and comparing),
Creating a lesson plan
Specify your individual teaching philosophy including basics of your research (essay - writing skills)
Practical English
Teacher: Mrs.Polehlova
Goals: Writing skills, reading skills, listening skills, pronunciation, grammar, vocabulary
Content: Tenses, passive (all forms) & it is said that …, he/she is thought to … etc., future perfect & future continuous, conditionals & future time clauses, organisation, introducing oneself and your country, experiences of your English-education, crime & punishment, weather, taking risks, expressing your opinion
Assessment: workbook ("New English file upper intermediate", two essays, one presentation (5 – 20 min.), one exam
Speaking Skills in English
Teacher: Mr.Clubb
Goals: Researching, outlining and summarising
Rhetorical skills
How to do a perfect presentation without any notes (or other tools &
aids)
Content: Opening & closing, impact techniques, smooth structure, rapport building, effective phrases, facts & figures, voice power, body language, visual aids, FGM (female genital cutting – research), social topics of each presentation (Panic disorder – Panic attack)
Assessment: Researching & applying, regularly cooperation, final presentation of your own social topic (great research beforehand, no usage of notes during the presentation, exactly two slices of Power Point, 5 min. time for inform about the basic facts without comment, using/including all skills taught at the seminar), reflection/evaluation
Propaganda in movie
Teacher: Mrs.Halamova
Goals: Awareness of historical & developmental knowledge about "propaganda"
Content: Mediated politics, promotional culture and the idea of propaganda, semantics, propaganda & the ethics of political discourse, propaganda in pragmatic context, propaganda as communicative practice, Nazi propaganda in movies, communist propaganda, American propaganda (USA & World Conflicts), propaganda – the instrument of the communist regime in Czechoslovakia (1948- 1953)
Assessment: Reading homework, regularly cooperation
Swimming
Teacher: Mr.Roztocil
Goals: How to teach & practice correct swimming-techniques – focus on accurate breathing, body parts-position, head-, arm-, leg-, foot- & body-work
Content: Warm-up exercises, breathing exercises (afloat & underwater), body tension respective body relaxation, to float on one's back, three forward- & backward rolls at a single blow (underwater), to dive under, to glide (afloat & underwater), to push off underwater, breast-stroke swimming, backstroke swimming, front- & backstroke crawl, diving, (butterfly stroke)
Assessment: Exam / demonstration - accurate performance of all swimming-techniques (No mistakes allowed during the end-demonstration)
Rhytmics Gymnastics
Teacher: Mrs.Vodehnalova
Goals: Correct rhythmical body movements in association with music
Content: Warm-up exercises, accurate body parts-position, head-, arm-, leg-, foot- & body-work, standing-, walking-, running-, jumping-skills, group dynamics, space utilization, performance
Assessment: Exam – learn and show a special performance (practised during the last seminars – visible at: https://youtu.be/497O4ZhUM5E)
Review of academic terms
I had seminar-lessons every day during the week (Monday – Thursday).
Mostly they started round about 8 am and ended at 6 pm at the latest.
Most of these seminar-lessons lasted round about one to two hours long.
I got some homework (presentations, essays and reading work) till the coming week.
There was an examination-month after Christmas-holidays (January), which means: no seminars, but learning and writing for your final mark.
But I was able to pass some of my exams before Christmas-holydays, too – especially the Sports-courses and some of my English-courses.
I think that there won't be too much stress, if you try to attend every lesson of every seminar (take attendance for compulsory).
Review (cultural & social terms) & Reflection
In Czech Republic new and old elements (of all epochs) are connected in the architecture and the rich history of Czech cities. Therefore sightseeing might be a must and every city or countryside has its own spirit and will be impressing, for sure!
During some excursions and trips I was able to learn a lot about history, architecture, institutions of Czech Republic especially of Hradec Kralove, its surroundings and of Prague.
You easily are able to make friendship when you are living together at the dormitories and also because of the events and the support of the Buddy-System at Hradec Kralove. At first I have to admit that I was afraid that there might be a lack of privacy, if you are living/sleeping together in one room. But I really had luck - all of my flatmates are great persons! And I think that mostly all of the students living at the dorms tend to be really open minded, considerate and lovable (as long as you try to be the same). Our main language was English, but I learned a few words in other languages, too. Communication is very important and although it might be sometimes hard to express yourself in a foreign language, you will learn to express yourself in many different and funny ways (nonverbal). I was able to taste different cuisine when students invited me for dinner. The traditional Czech food is mostly meat oriented and consists of two or more courses. But you can find any kind of cuisine and great beer mostly everywhere and it is cheap and very tasty (as mentioned many times before)! It might get kind of tradition to go out together for having dinner and some drinks, too.
For me, the people in Czech Republic are really polite, patient, helpful, open minded and generally acting pretty "easy going". For that reason you might spend more time than expected while waiting for "something", but I got used to that and in the end I enjoyed this "waiting-periods", watched other people, started to be more aware of things going on around me.
Hradec Kralove itself is a small University City with a big culture-, industry- & education-history. Sightseeing tours are really recommendable, as I mentioned before! For example there are beautiful Parks influenced by the rivers (Elbe & Orlice), the Museum, the White Tower, the Holy Spirit Cathedral, the Gallery of Modern Art, the winter stadium, the football stadium, theatres, cinemas, the wonderful festivals such as the most famous music festival "Majales" (in April) … etc.
You can go shopping in the centre and near the dormitories at Futurum (a big shopping centre). Located really close to the dormitories there is a small shop called Albert, where you can buy food and other everyday objects all day
(Monday – Sunday from 7 am to 8 pm). So, you might get everything you need and much more. And another time I have to mention that the prices are mostly very low but the quality is very high!
If you want to enjoy the nightlife you can visit the student`s bar Maty`s near the dormitories or the clubs like NOX and Level… In the centre are a lot of nice bars, restaurants and clubs, too. Mostly I went there with my flatmates from Czech and the Erasmus students, but you really get to know new people during the night and so your circle of friends will get bigger and bigger. I preferred to hang around with Czech friends and therefore I was able to visit there hometown, too.
I loved to visit Prague during the weekend to do some sightseeing and enjoying the nightlife. I fell in love with this beautiful city and its special spirit!
Overall I´m more than just happy that I got this chance for studying and living abroad!
I was able to improve my English skills and all of my seminars broadened my horizons. I learned how to teach in a very child centred but focused and patient way – although I wasn`t able to speak the children`s mother tongue.
I enjoyed every second of my School practice and all of my seminars, too.
I experienced a lot of "adventures" and found new friends.
I don`t want to miss one second of this time and will come back to HK soon (for sure!)
In the end my destiny fulfilled, no more words left except LOVE (Hradec Kralove).
Jsem opravdu šťastná, že jsem tady mohla být!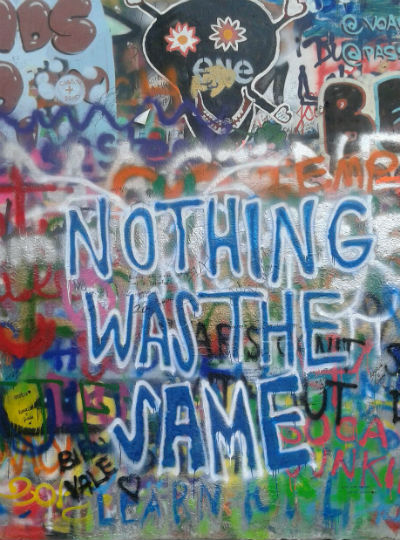 HRADEC KRALOVE
Lovely people
Overwhelming surroundings
Very instructive seminars
Energetic time
(CC by Lilith Schellnegger)