Arianna Cavaliere, University of Milano Bicocca, Mobility for Study, Incoming, PHST
Author: Arianna Luisa Cavaliere
Sending institution: Università degli Studi Milano Bicocca (Italy), faculty of Scienze della Formazione Primaria
Mail: http://www.formazione.unimib.it/Default.asp?idPagine=724&funzione=corso&corso=24
Receiving institution: Paedagogische Hochscule Steiermark (University College for Teacher Education of Styria), Graz (Austria).
E- mail PH: http://www.phst.at/
Contact of the International Office: z2@phst.at
Personal introduction
My name is Arianna and I come from Milan, the second biggest city in Italy. What's the reasons why I decided to become a teacher, four years ago? I wanted to do something meaningful for myself and for the society, something essential. I didn't want to sit long hours sad at my desk but wanted to use my mind and my body in a creative and harmonious way. Last but not least, I love learning and I have always had a curious attitude towards life.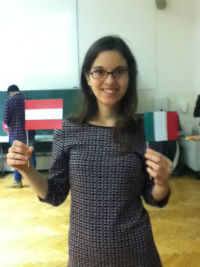 Farewell party, Arianna's image
I chose Graz because I have been studying German for six years and I love it, so I wanted to go to a German speaking country. For those who don't know German yet coming to Graz might be an opportunity to leant it. As it says, "Life is not too short to learn German". Another reason to move to Graz was that the University College for Teacher Education of Styria (PH) is deeply committed in the project Voices of Europe, which builds new collaborations and exchanges inside the European Union and in which my home university is also involved.
The life in Graz- moving around and weather
I found the relation dimensions of the city/ opportunities offered in Graz amazing! Milan, my hometown, is a very stimulating and international city as well but the price to pay for it is that you have to spend long hours every day on the public transport to move across the city. In Graz you can walk to the city centre (Altstadt) or to the castle (Schlossberg) whenever you want and everything I need and I wish to do and to reach is very close to my dormitory. I love walking to the Strassen (steets) and the Gassen (alleys) of Graz. The Sporgasse and the Schmiedgasse are among my favourite places.
Most of the students in Graz own a bike, which is very practical to go around and comes in handy especially when you have to come back home at night. It is to take into account that most of the buses stops at 8 p.m. and that the night lines are active just at the weekend (Saturday and Sunday). If you don't have a bike, you would be better buy a seasonal card for the public means of transport (buses, trams) from the Holding Graz.
Graz is quieter than my home time in the evening, in the night and at weekends. Almost all of the shops are closed after 18/18.30 p.m. and on Sundays. So please, don't forget to buy the milk for the Sunday breakfast the day before!
Everything seems to be much easier and reachable in Graz than in my hometown: we Erasmus students were the mayor's guests for one evening and could spend a morning at the office of the European Union called Europe Direct.
For those who come to Graz for an exchange program, there is something to do with any weather conditions. At the end of September, when the weather is still hot and sunny, you can do excursions to the wonderful natural sights near Graz (Baerenschutzklamm, Kesselfallklamm). In autumn you can't miss the Wine road (Weinstrasse) and the wine festival of Styria. In the cold winter you can enjoy the warm(ing) atmosphere of the Christmas markets. And another thing...you needn't worry too much about your endurance to the Austrian weather. I can tell you that it was surprisingly mild and sunny this semester!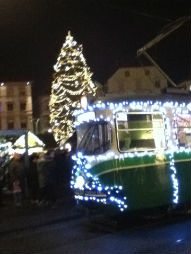 Christmas tree and Christmas tram in the Hauptplatz, Arianna's image
Graz has a very good quality of life and is ideal especially for students and old people to live.
Cultural life, social life and travelling
There are plenty of cultural institutions in Graz. I visited the Opera, the Schauspielhaus- which is a theatre where university students can get tickets for just 5 Euros- and some cinemas.
In Graz you can find cheap and good places to eat, such as the Bausatzlokale, which are something particular. There you can "build" your own meal making crosses on a colorful piece of paper. There is a wide range of food available going from Burgers, to Pizza, to the Austrian Pfandl (dumplings baked in the oven with cheese on top). There are leaflets of different colours corrisponding to the different categories. A meal costs most of the times less than 6 euros (drinks not included)! My favourite Bausatzlokal is Saegewerk, in Kaiser- Josef- Platz (the Opera square).
I am profiting of the supporting and tutoring net for the Erasmus incomings to the fullest. The team of the international office is always there when you need help or advice. There are also trips and free time activities financially promoted by the European Union and included in the Erasmus+ Study Program! I find amazing that such an important institutions recognises the primary importance of travel and of life experiences for the personal and professional development of its youth.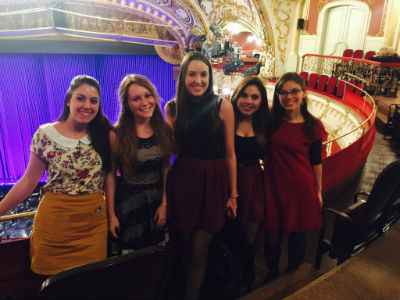 Opera House Graz, Arianna's image
The Erasmus Student Network Graz (ESN) is also a point of reference for the free time and help to familiarize with the new city. Moreover, the owners of an ESN card get discounts in the city.
Graz has a central position in Europe, so there are plenty of opportunities to visit other interesting cities. Vienna, Klagenfurt, Linz and Salzburg are among the possible destinations in Austria, but it's worth also crossing the borders and visiting Maribor, Ljubljana, Budapest, Udine, Verona and Venice.
Accommodation
The website http://housing.oead.at/en/accommodation/graz-en could be useful to find accommodation in dormitories. I have been living in Greenbox Nord, which is just ten minutes away on foot from the Paeagogische Hochschule. Moreover, it's in a quiet position and it's surrounded by a big park. The community dimension in parties, meetings and new friendships make the accommodation in a dormitory a constitutive part of student life.
Review of my stay abroad in academic terms and chosen courses
A specific module called International Teacher Competences has been designed for the incomings at the Paedagogische Hochschule Steiermark. In addition to it, eight credit points have been accomplished through optional courses. In Milan all the courses are obligatory, while in Graz I enjoyed for the first time the pleasure of having the opportunity to personalize my curriculum.
We explored the Austrian culture and the cultures of the incomings in the Module International Teacher Competences through meetings in heterogeneous classes. An afternooon was dedicated to a European short films movie competition in which we watched some movies and voted our favourites.
Another part of our curriculum was devoted to the languages. English and German were obligatory, the Spanish and Dutch optional. I found the English course particularly interesting because we concentrated on the spoken language through presentations, interviews, roleplays, dubbing tasks.
You will find the University life highly stimulating. I found some courses we don't have in Italy, such as Station work and Rhythmik. The Rhythmik course is also typical of Austria, as it deals with music.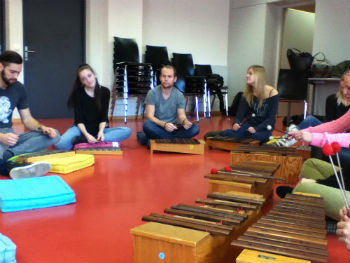 Rhythmik lesson, Arianna's image
The two theatre courses I attended have been extended also outside the classroom through a visit to the theathre and another one to the Opera House Graz.
You will find a motivated presence of new media at the University and have the opportunity to improve your digital competences being active in projects and tasks.
In one of my adventures abroad Mariola, Karina and I landed on Radio Igel, the campus radio, for a special issue about the Erasmus.
The approach to the teaching- learning at Milano Bicocca and at the PH- Steiermark present some differences. In Italy we still use a lot of books, which sometimes brings us to the brink of a cognitive overload but also allows us to understand deeply the reasons and the theoretical background of what we as teachers do in the school. The PH is more practice- oriented and involves the learners in more projects. I think that a contamination between the two approaches would improve both the systems and I would like to promote it communicating my Erasmus experience.
When you come on an Erasmus you can't miss te opportunity to do a school placement abroad. The internship in Austria is being particularly meaningful for me because in that country teacher- students have the full responsibility for the class and are allowed to take an active role in the life of the class (help the other teachers, arrange and do activities). Moreover, in Austria I experienced co-teaching, which means that two teacher- students are sent to the same class and can observe, plan and do activities in the class in cooperation. This practice is not common in my home university in Italy, but I think it would be worth outlining its advantages and proposing its introduction.
As none of the pupils in my internship class was Austrian, I focused my reflection on the themes of multiculturalism and teaching of foreign languages in the school. I received a "special treatment" for being an humble intern, as my mentor teacher in the school was always asking me if I wanted to see something in particular or if she could do something more for me! Thanks to her I could easily get a two visits at the Freie Waldorfschule Graz and two in a mixed- age class in my internship school using Montessori and Freinet methods.
The Erasmus Coordinator Silvia Kopp- Sixt supported and motivated my learning correcting and discussing with me the written reports I wrote after every day in the school. Her commitment to the job and her open- mindedness were astounding for me.
Some things I like about the Erasmus life:
- You can learn every moment of the day without noticing. There is a lot of peer learning and group learning. Moreover, also going around in the city (streets, shops, cinema, theatre...) offers opportunity to be exposed to new vocabulary. I always take two notebooks with me in Graz, one for the new words in English and one for the ones in German.
- You feel freer than at home and can build relationships with people from different nationalities and walks of life.
- I never felt alone. You need to immerge yourself in the new world and live the experience to the fullest.
A final word
Come to an Erasmus because you can't imagine how deeply it may influence your life and yourself. In Graz I learnt different things and I also explored/developed different parts of my personality. Now I'm less worried about the future and more flexible and relaxed in professional and private relationships. In these months I learnt to dare more in life, as dreams and wishes that seem out of reach at a first glance can often be accomplished through hard work and help from the outside. I dared apply for an Erasmus and received help from the European Union, I dared ask my mentor teacher at the internship school in Graz to visit a Waldorfschule and I could be a host there in two different school days. I am also more tolerant and open- minded. I thought the Italian cooking was the best in the world, but now I see that there are different cooking styles and habits, and also different tastes. Sometimes we should stop putting things in a ranking list and start taking a multiple perspective. Getting in touch with other cultures means discovering other possible ways of conceiving and living life.
Come to Graz to acquire competences for life and work, to grow up. I am already planning to come back after graduating in Italy. How is it possible that I haven't left Graz yet and I already want to come back?