Merel Tijink, University of Oulu, Finland, mobility for study, KPZ
holland:
Contact University:
University of Oulu (Oulun Yliopisto)
Pentti Kaiteran katu 1,
90014 Oulu, Finland
http://www.oulu.fi/english/
international.office@oulu.fi
Contactperson University:
Jani Haapakoski
Faculty of Education, International Coördinator
jani.haapakoski@oulu.fi
During orientation days in the Netherlands I heard information about going abroad.
At first I tought about going outside of Europe, but then I figured out that it was very expensive.
Then I heard about going to college at Scandanavië, that's when everything started.
First I had to choose which country, eventually this became Finland.
I searched information about education in Finland and I found that the education in Finland is very good, especially in primary school. Finland is on top of the education ranking in Europe.
At school we got information about different opportunities to go abroad. At the presentation I saw the University of Oulu. At home I searched on the website and I became very excited.
Then I went to our international coördinator Harrie Poulssen, to tell him about my interest in Oulu. He was very excited too!
But he told me that I needed to write a motivation letter, so I wrote my motivation letter.
After that we had a conversation about my motivation. This went well and I received my temporary GO!
Then the kind of boring stuff started, filling in all the papers.
We had to think about a lot of stuff like:
- Financing (DUO)
- Temporary stop for the travelcard
- Insurance
- ID or Pasport
- Housing (PSOAS)
Housing is arranged trough PSOAS, you can look on the site of the school. www.psoas.fi
- Creditcard
- Learning Agreement (choosing courses, that's fun!)
- Contact the University (to apply, ask the international office at KPZ)
Going to school in Oulu, Finland
The first inpression of the school was that it was big. Way more bigger than the KPZ. There were all different departments in the school for each faculty. Our faculty, education, was at the end of the school so we had longs walk getting there. No problem, in that way, there's no need for the gym.
Our first meeting at the university was with Jani Haapakoski, the man which we had email contact with in Holland. He told us about the Exchange Student programma and all the courses we could follow. Before we came to Oulu we had to fill in our Learning Agreement, but Jani told us that there is a possibility that we need to change it. Luckily for us, there was no need to change all the courses. We had to change only one course. We changed it to something with Arts, which had to do with our Profile we chosed last semester back in Holland.
We could register ourselves for the courses in a website called Weboodi. On this website you could type in the course code and the site would find it. Jani also told us we had to register to the ITE classes, because only these ones were given in English. If you register for a course you could go to a website called Lukkari. On this website you could add all your courses and will make you a schedule of all you courses per week. It gave you the exact date and place of the course.
By looking in Lukkari I figured out that we did not have to spend that much time at the university. Most of the days we have only one course. During the lessons I figured out that it doesn't mean you can go relaxing all day long. After you're back from university you have to do homework and preperation for the next lessons, so there's a lot of self work at home. In the first 3 weeks we had 2 presentations and an essay we had to prepare.
We could send the essay to a certain teacher through a website called Urkund. On this website you upload your essay as a Word document so that the teacher can read it online. I think this is a very easy and good way to deliver papers or essays. You can do it from your own chair without taking a bus to the university. It can't be better!
Sometimes I have overlap with different courses because it are just seperate courses who are not included in progamma like on the KPZ. Every student on the university follows different courses, so there's no way you can satisfy every student. But when there's a case of overlap you can just send the teacher an email that you won't we in class because of overlap. It's up to you to choose with course you would go to. I choose to switch every week. One week to that class, and the other week to that class. The teachers are so flexibel and understand the situation you are in. They appreciate it very much when you let them know whether you be there or not.
During the lessons you figure out that Finnish people are different. They are way more down to earth, calm and peaceful. They talk very quitely and do not burst out or something. Sometimes that makes certain lessons a little bit boring. Of course, not all the Finnish people are like that. There are some very cool and nice people.
It's also very nice that the classes are mixed with Finnish students and exchange students. In that way you get to know Finnish people from Oulu and you can learn a little bit about the Finnish culture.
Today we had a gast teacher during a class of the course Early Learning in Childhood Education. The gast teacher was from Amsterdam, how nice! She was telling the class about the educational system in Holland and she was comparing it to the Finnish system and all the other educational systems from all the different countries. When we were talking to her in Dutch we figured out that she also teached at the KPZ. That was very nice to hear. Her name is Helma Brouwers.
Of course, we're not always at the university. We also do a lot of nice trips and traveling around the country. Finland in winter time, it has to be on your bucket list!
We already went to Svanstein in Sweden for a ski trip, skiing in -25 woehoe! Still 10 toes and 10 fingers! Last weekend we went to Levi in Lapland. It was a very nice trip and at the first day we saw the Northern Lights, wauw!! It was an amazing experience.
Also the parties here are very good! We are members of ESN, Exchange Student Nation. They organize very nice trips (like the ski trip to Sweden) and parties! All the student from the University of Oulu are having an overall. That is their student uniform. We also got one from ESN. There are parties where you have to wear the overall. You can decorade the overall with different patches and it will look very nice!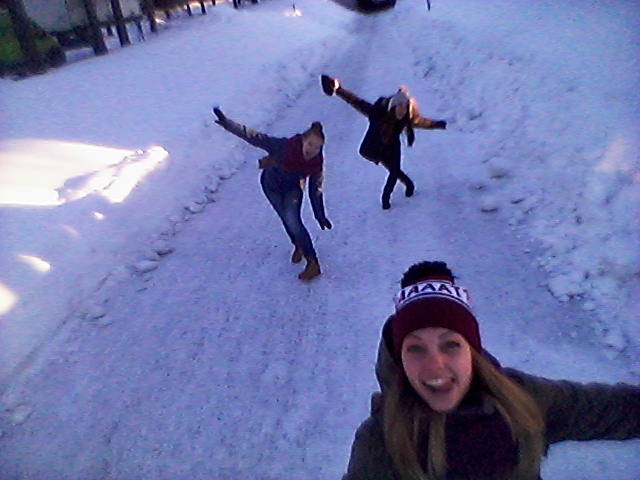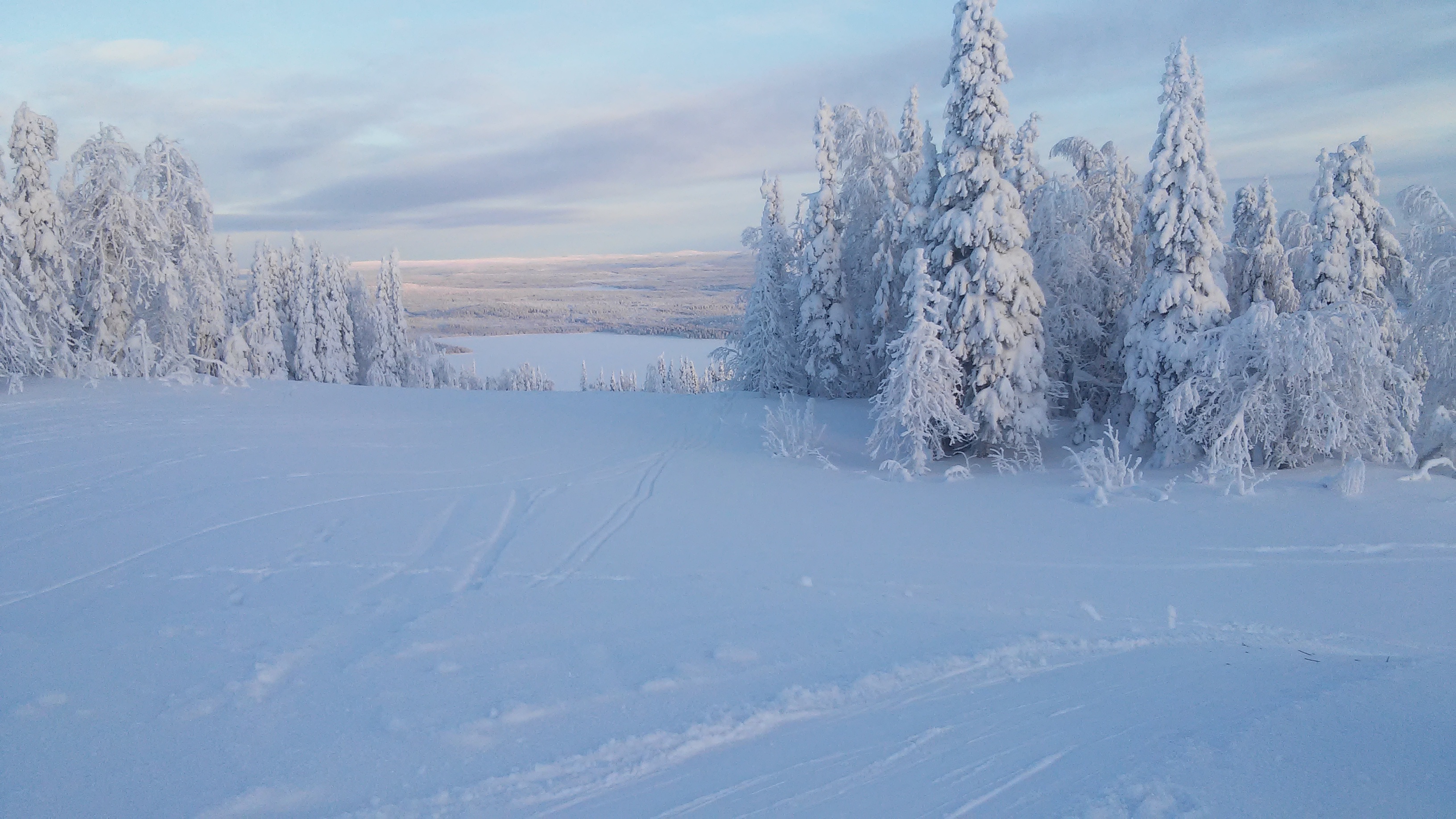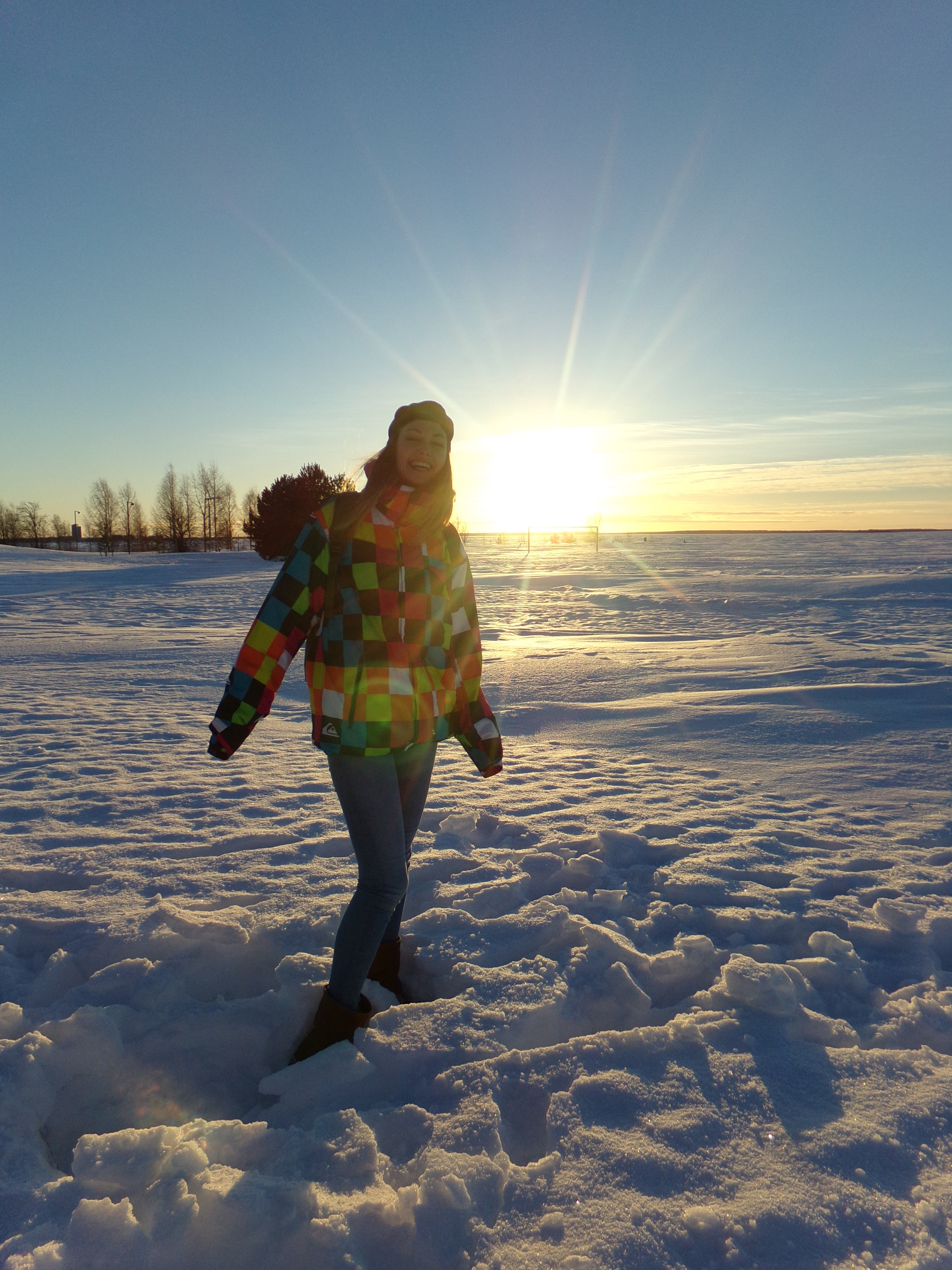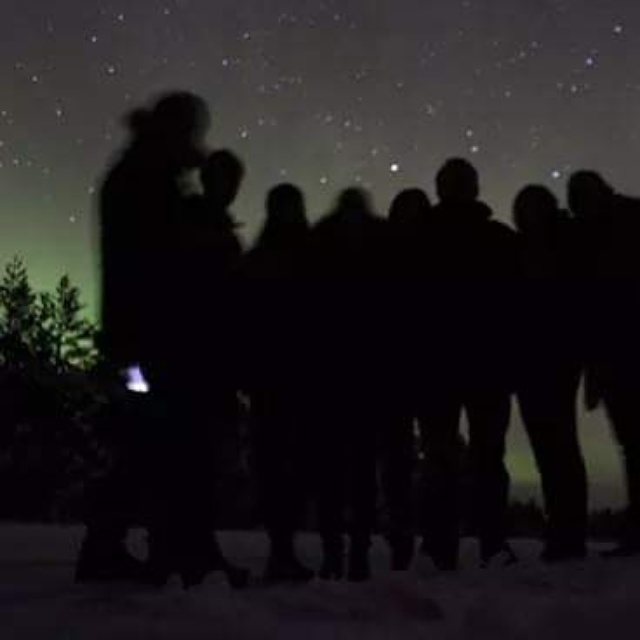 April and May
It has been so cool the last couple of months. We are living the good life and I feel like never going home. The last time we did awesome trips and had a lot of schools work today. We have been following 5 courses at the same time now and it has been busy. At the end of april we had to submit 5 essays. Hard work. But of course we made a good planning so we made it work. Till now we passed every course and I think we will pass everything. Everyone here in Finland is always saying that the education in Finland is the best, but at the university, it is a lot more easy than back in the Netherlands.
On the sixth of May we visited a primary schools here in Oulu. We met de school head and he was telling us that he had very close friends/colleague in Emmen, near the place in the Netherlands we study. So that was very nice to hear. He was telling so many good things about the education system in the Netherlands. And he did not agree with what the media says about the education system in the Netherlands. He said the media is always so critical and they don't even know where they are talking about. He saw a lot of similarities with the Finnish education system. And when we looked into the schools, you can see the Finnish government spent so much more money on education compared to the Netherlands. We just save money for education. But the way teachers educate the children, it's not a big difference. They just have more money to spend on stuff they need to make it a worldclass lesson.
On the sixth of May we also had our last book exam. Actually it was the only exam we had. The rest was only writing essays. We also got a letter of confirmation from the head of the Faculty of Education. In case we need for our home university.
Now i have free time to finish reports for my home University in Zwolle. I have one week time now to be busy with school stuff because than we are going to travel for 1,5 week. On the 14th of May we are heading to Helsinki, on the 15th of May we are going to travel to Tallinn, Estonia and on the 16th of May we are going to Reykjavik, IJsland! So cool, I am so excited for that trip. We'll be there for one week and travel from Reykjavik to other places in the country. We'll return to Helsinki on the 23rd of May and then back to Oulu with the bus. And then one week left in Oulu. Time flies so fast when you have fun, so so much fun.
I had a crazy amazing time, so many people we met and new friends we met (new travel destinations ;p), improved our English, learned to cook, got to know the Finnish school system, got to see a big university, crazy parties we had, beautiful places we saw. It was the best time of my entire life till now! Thank you Oulu
At the end of this E-book you will find my financial summary of the last 5 months I've staid in Oulu.
Best regards,
Merel Tijink
Plane tickets 380,-
Deposit + administration costs 400,-
Total € 780,-
Apartment rent 229,45
Buscard 42,50
Student registration 50,-
WiFi box 35,-
ESN membership 5,-
Groceries 70,-
Ski trip to Svanstein, sweden 150,-
Totale € 591,95
Apartment rent 229,45
Buscard 39,50
Groceries 70,-
Lapland trip to Levi, Finnish Lapland 140,-
Total € 478,95
Apartment rent 229,45
Buscard 39,50
Groceries 70,-
Pirates of the Baltic Sea trip to Stockholm, Sweden 135,-
Total € 473,95
Apartment rent 229,45
Buscard 39,50
Total € 348,95
Aparment rent 229,45
Groceries 70,-
Trip Helsinki-Tallin 110,-
Totaal € 999,45
Total of everything € 3673,25