Sabrina Noichl, University of Karlstad, Mobility for Study, PHST
Karlstad University
SE-651 88 Karlstad, SWEDEN
Universitetsgatan 2
Phone: +46-(0)54-700 10 00
Fax: +46-(0)54-700 14 60
E-mail: information@kau.se
International Office
Contact person: Alicia Berg
Universitetsgatan 2
651 88 Karlstad SWEDEN
E-mail: Alicia.Berg@kau.se
Study in Sweden
The university in Sweden is located about 3km out of the center and surrounded by student accommodations and it is one of the youngest universities in Sweden. The sun in front of the building shouldsymbolizethe light and it represents life, warmth and energy. It is associated with enlightenment and growth, just like Karlstad University. Compared to universities in Austria, in Sweden students are working a lot of their time in groups or alone. Actual time in the class with the teacher is about 5-10h a week, the rest of the time students are supposed to work indepented and with the course literature. Teachers in Sweden attach great important to using the course literature and spend time at the library research things and write assignments/ essays about it afterwards. Therefore the library is huge and there are four floors with about 1200 seats, 230 computers with a working space and 28 private rooms for group discussions or projects. It is a public research library - open to everyone needing to use its collections.
The grades in Sweden are also different than in Austria. You pass your exam / your class with a VG (pass with distinction) or with a G (pass), you fail your clas / exam when you get a F (fail).
Sweden is a very equal country, people face each other in a very equal way. So it was quite weird for me the first time to call my teachers and professors at the university with their first name and it was also new for me to be called by them with my first name.
The classes are always really small, not more than 25 people in one course group. This fact makes the courses in Sweden very familiar and easy to feel comfortable really quick. They don't have compulsory attendance but it is common that everybody visit the lectures as much as it is possible.
As an erasmus student you are also in a "Host Group" with about 10 other students and your hosts are students which are here since one semester or longer. They pick you up at the train station, show you everything on Campus and tell you everything you need to know. They also organizes "host-dinners" or other activities.
Orientation week:
In the week before the semester starts Karlstad University offers a orientation week in which they tell you really EVERYTHING important to know when it comes to study or/ and live here.
For example we had lectures about:
- How to live in a students budget
- Rules and laws in Sweden
- Library and how to rent books etc.
We also had guided tours on the university area and in town and they organized every night anything else to give us the chance to get to know each other better.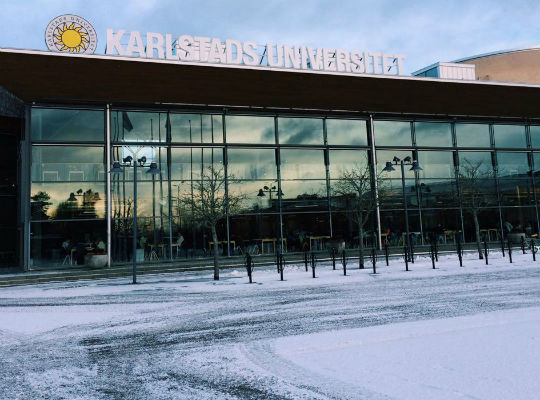 (University of Karlstad, January 2015)
My courses
1. Intercultural Communication I (15 ECTS)
"The course aims at building up skills in interpreting, evaluating and developing effective strategies for communication within various cultures. The focus is on the shaping of values and modes of behaviour in different cultures." (available at: http://www.kau.se/en/education/courses/IKGA11, 01.05.2015)
Learning Outcomes
Upon completion of the course the student should be able to:
- give an account of some theories on how values and norms are formed in different cultures
- apply the fundamental concepts and theories of intercultural studies to different cultures
- analyse the relationship between culture, communication, identity and values Content and Form of Instruction Instruction is in the form of lectures and group work in which students are expected to participate actively.
The course focuses on the following aspects:
- approaches to intercultural studies
- the basic terminology, concepts, and theories in the field of intercultural studies
- survey of the development of the field and its relevance to contemporary society
- the implications of the relation between culture, verbal and non-verbal communication, identity, and values - the students' cultures
(available at: https://www3.kau.se/kursplaner/en/IKGA11_20072_en.pdf ; 01.05.2015)
The class was constructed in lectures, group work in class, presentations in teams and a lot of assignments and group analyses and at the and we had a big written exam. We got seperated in groups of 4-5 people of different country origins , for example in my group was Alberto from Spain, Chey from the Philippines, Sonja from Germany and Yanbark from Turkey. We were supposed to make presentations about our education and culture in our country and do analyses of movies.
We also had to make a country presentation, in my case with Alexander from Austria and of course about Austria. We talked about culure differences, customs and special celebrations.
At the end of the term , middle March, we had our written exam about the contents of the course literature and the Power Point slides.
Our teachers Annika and Andreas are the heads of the Intercultural Communication department and they are genius in what they do. Both are really good in connecting new information, basic knowledge and a lot of fun in therer courses. We also had an international dinner in class and they tried to open us new ways to understand Intercultural Communication.
All in all the class was really interesting and I learned a lot about communication, international connections and how to deal with new or foreign challenges.
2. Swedish as a foreign language I (7,5 ECTS)
My second class was a little bit harder for me than the first one. We had a male teacher who told us in the first lesson that he hadn't teached a beginner swedish class for a while and so he doesn't know what we want to learn or what are the important things. His way of teaching was pretty chaotic and we struggled a lot with the new grammar- which is really complicated in swedish- and the vocabularies.
After a little bit of time passes by he got better and I started to like the swedish language more and more. Anyway I was really glad for having my notes and the basic knowledge from the swedish language course in Austria.
We had to pass a listening comprehension, an oral exam and a almost 15 pages written grammar exam at the end of the term to pass the class.
3. Intercultural Communication; Media, Arts and Literature (7,5 ECTS)
This class is the continuation of my first Intercultural Communication class and my teacher is Andreas again. He specialized the contents of the class and we work a lot with New Media, Mass Media, social networking and of course literature. We don't have to write a written exam at the end but we have to write two assignemts / analyses with the course literature, read an english novel and write answer questions afterwards and write a thesis (about 10 pages) about a theme we will get later on.
To apply / registrate for courses
Sweden and Swedes are well known for being really organized and so it is with every thing they do or create. They really care about there exchange students and remeber you about everything.
The homepage : http://www.kau.se/en is really overseeable created and you find everything really quick. They seperated there homepage in different chapters for example "Future students" or "Education" in which you can find everything you need for the registration.
As an Erasmus student you can only apply for english classes and you have to pay attention if the class is bachelor or master level.
But as I mentioned, the homepage is really comprehensible and easy to understand : http://www.kau.se/en/education/courses.
The next step after you chose your classes is to fill out the Learning Agreement and send it to the International Office and they will tell you what to do next.
After your arrival here you getyour own credentials for a page called "My page". It is pretty the same as our "Ph-Online" system and it is for your class registrations, to registrate for exams or/and log in to "Its learning" (similar to our Moodle Learning system). How exactly everything works with my page and its learning will be explained at the orientation week.
How to live in Sweden
As a student you always live on Campus in Sweden. A own appartment is not financeable and also not really usual. The Campus is about 4min with the bus or a 10min walk away from university and it is fantastic. The Campus is seperated in Duettgatan and Triogatan (gatan = street) and it looks like a small village full of students. KBAB is the housing- cooperative and you sign up online for a room. Therefor they will write you an email soon enough (most of the time 1-2 months before you start your term).
You can apply/choose between a 17qm, 23qm or 26qm room. The 26 one is kind of a loft room with a stair inside and it is the most expensive one. KBAB allocate you a room at the end and you get an email about 3 weeks before you start. I would suggest to be quick after you get the mail to apply for a room - I think it is a "first come - first serve" system.
I applied for the 23qm because I am used to have a bigger room and the price difference was only 30€. It costs me about 390 - 400€ p.months - it depends on exchange rate from Euro to Swedish Krona. In the rooms there are basic things like a bed, a table (or two), chairs, a wardrobe and a shelf. There also can be more things in it, it depends on who lived in your room before :) You have your own bathroom with toilett , sink and shower.
I can really recomment the 23qm room because you have enough space for your stuff and it is also allowed to bring friends here for a longer time f.e. friends from Austria who visit you. Therefore it is nice to have space for them and their air mattress to sleep.
All information to the rooms are given here: http://www.kbab.se/student/foreign-students
You share a kitchen with 7-9 other people on your floor. You have your own space in the frigde (if you are lucky , you have two ;-) ) , a space in the freezer and two cupboards for your things. Normally there are plates, bowls etc. in the kitchen, worst case you just buy your own things at IKEA.
There is also one laundry room in the house with two washing machines and one dryer. You book the laundry room with your key.
All in all Sweden is an expensive country so you need more money for groceries etc. A normal week is about 50-70€ , depends where are you going (they also have Lidl her - would recomment to go there!).
School practise in Sweden
Internationella Engelska Skolan Karlstad
Gruvgången 4
653 43 Karlstad
Senior School
+46(0)54 771 91 10
Junior School
+46(0)54 771 91 14
www.engelska.se
info.karlstad@engelska.se
Contact Person: Christoffer Hook - Head of Department
christoffer.hook.karlstad@engelska.se
16 hours in primary school seperated in:
5h Sport
11h GU (Maths, English, History, Physics, Swedish)
The children in this school are there from 7:30 to 14:00 (primary school) or till 15:00. They eat together between 11:30 and 13:00 and spend almost all their time together. Between the lessons they have longer breaks where they go outside (they don't care about the weather) to play ice-hockey, street-hockey, soccer etc.
The school is a private school so parents have to apply for a spot really early. The classrooms are big and really nice furnished. When I saw them the first time the remembered me on living rooms with schools desks in it.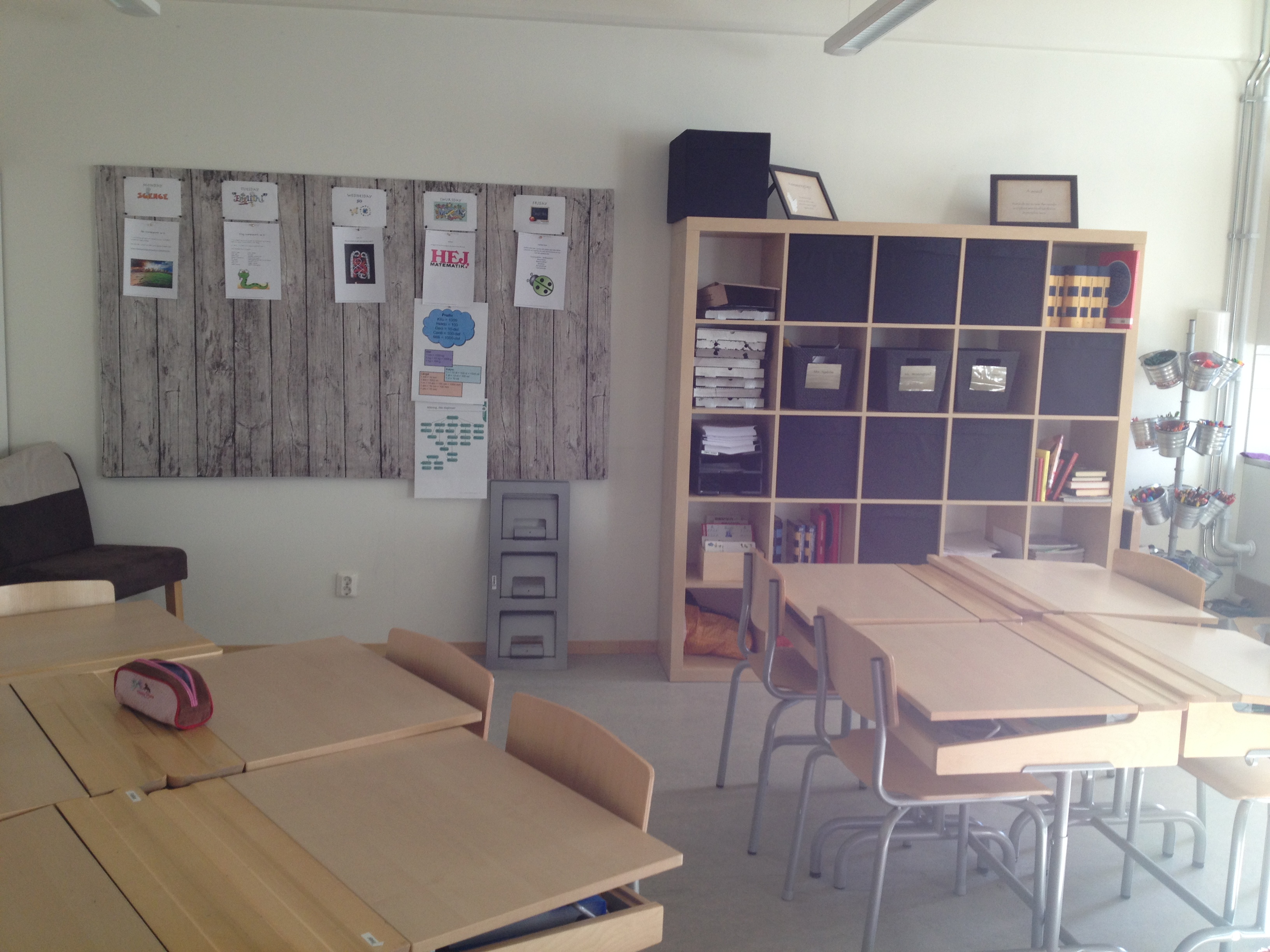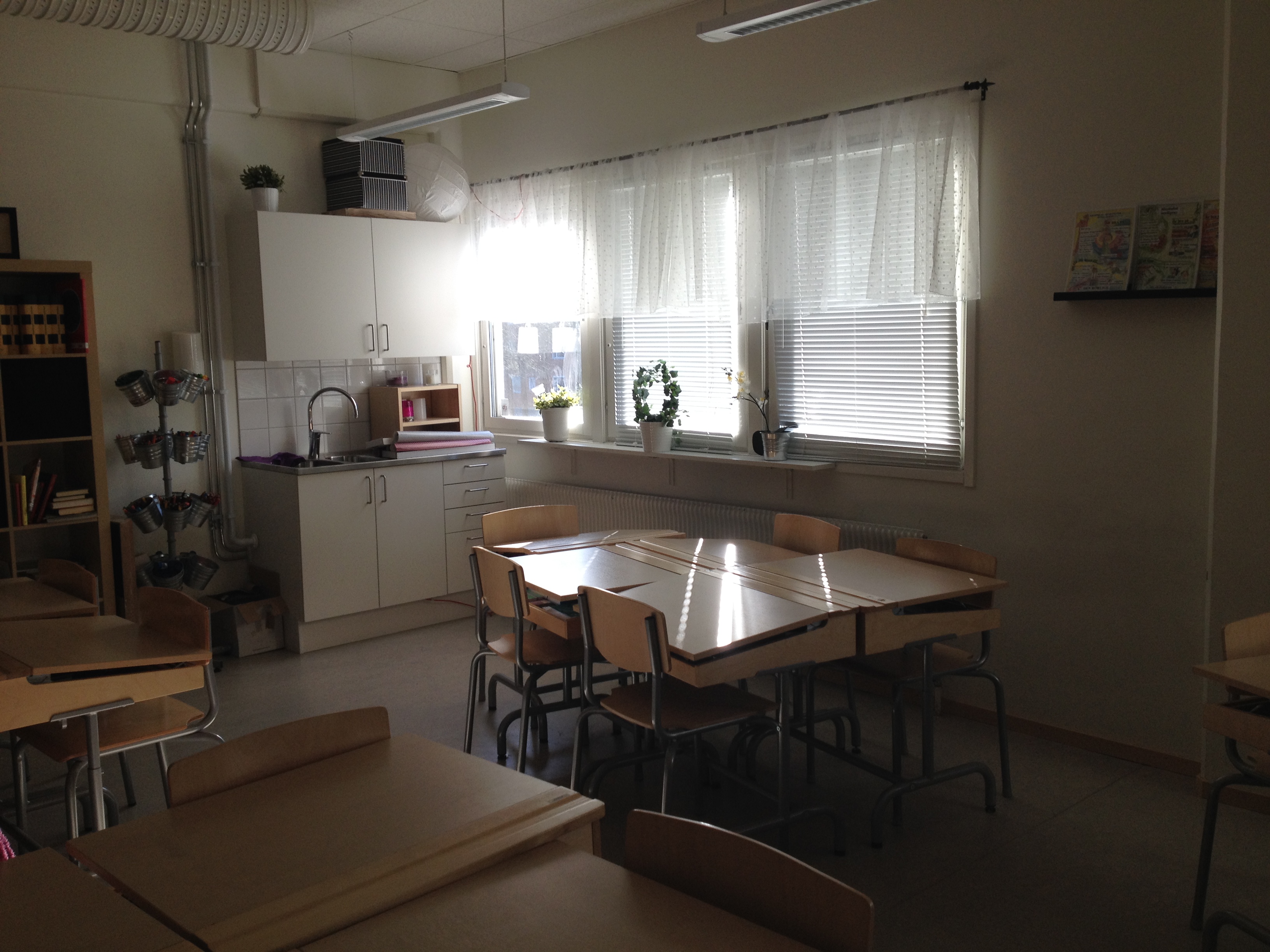 I had the chance to participate and also teach lessons in the International English school of Karlstad which was impressing and amazing. I accompanied Mr. Ely (teacher for English and Maths) the first two days because it was easier at the beginning to have somebody who speaks English and who also teachs in English. Mr. Ely is from Arizona, USA and since two years in Sweden.
He teachs in year 4- 6 and primary school. In Sweden the students have Maths in English after they finish primary school and English as a subjects since the first year.
At the start of every lesson he gave the students "welcome- questions" to solve. For example new calculuses or vocabularies they have to translate. That is his way to make the children focus on the context for the next 50min.
They don't have notebooks, they use notepads or their computers to note things.
So the students solve the welcome questions and the teacher set a "magical number" which is for exampel 15. That means that he will wait till 15 childs are finish with their questions and then they start to compare.
They work with a lot of New Media materials like Ipads, Computers and they only have interactive white boards. The only thing what is strictly forbidden are Smartphones, the childs have to put them into boxes and put it in a shelf.
Mr. Ely was a very funny, creative and passionate teacher. He made video clips at home about fields of mathematics and showed it to his class on the next day. The lessons are very varied and the students are very motivated. I was also impressed who good their English is, they knew technical terms of mathematics and switched without problems between English and Swedish.
During the lessons the children work very autonomous and only ask something if they really don't know or if nobody of the classmates can help.
An inherent part of the schedule is also lessons called "Mentor - lesson". Every teacher in this school has his mentor- class with about 10-15 childs. They are seperated in girls and boys and most of the time the boys f.e. come to a male teacher and reverse.
This lessons are used to give the students the chance to talk about things they bother them or also about things they want to change. They also are taught in being respectful and how to solve problems or discussions in a respectful way. When I was there, they talked about how to do it / how to behave when other people speak or how to behave if somebody makes a mistake. After that they wrote nice "one-sentence / one - word messages" on post-its and gave them to the teacher. Together we stuck on on every locker on the corridor, so the students found messages like "you are great" or "be proud of you" on the next morning when they came to school.
Also a different thing is that they have evaluations after every lessons or at least after every day. The students can write what they liked or if there was a problem with something and the teacher take this really serious. As everywhere in Sweden this school is very equal and so everybody behaves. But there is also a lot of respect between teacher and student, students call their teacher wit Mr. and Mrs. and there are very strict rules they have to stick to.
Once a month they have an "expert - day" where a special person comes to school and talks with the children about his/her work and make experiments or something else.
After two days I changed the teacher and I accompanied Mrs. Nyström in a primary school class (10years old children). This was a very new experience for me because they mostly talked in Swedish and the lessons were also 50% in Swedish. After my Swedish class at university I was able to speak a little bit, introduce myself and give woking - orders. We had a lot of fun together trying to speak in a language mix out of English, Swedish and also a little bit German beacause the children were very curious how German sounds like.
I participated a History lesson which was a little bit hard because it was in Swedish and Group - Work lessons. The children worked on the districts of Sweden. They built a model out of paper and cardboard and researched everything in the internet or out of books. They wrote all their knowledge down on a paper and at the end of the project they make a book out of it.
So I helped the kids with their research and we practiced the presentation. At the presentation the teacher graded and also the classmates had the chance to say something. They called is " two + and two - ". So two children were allowed to say something positiv and two to say something negativ.
I also had the chance to teach Sport lessons for the primary school and 5th grade. The teacher asked us if we can make a dance with the children so they have the chance to watch and grade them.
The sport lessons are always 90min in Sweden so we had a lot of time to make a choreography + warm up and stretching afterwards.
All in all my school practise in Sweden was really impressive and instructive. In my opinion they are a few steps forward us and I love how they integrate the children in almost all their decissions on the one hand but also demand a lot of respect on the other hand. In this school everybody works together as a team and because of the Mentor - lessons the children gain a lot of social skills and learn a lot for their lifes after school.