Author: Mara Forstenlechner
Reviewer: Iris Forstenlechner
Contact of the university
Örebro University,
International Office
SE - 70182 Örebro
Responsible person in the receiving institution
Lena Nordström (Coordinator)
exchange@oru.se
+4619303000
Description of the university
The campus is quite big and it is made up of many different, modern buildings. The facilities are modern and in every building there are a lot of sofas, etc. for students to work or just to chill between classes. Especially the library and the music building are very beautiful. Örebro university attaches great importance to making students feel comfortable and at home, that's why there are nice opportunities to chill on campus – inside and outside, if the weather is nice. In some buildings there also some nice cafeterias, where they sell delicious Swedish Morotskaka, Kladdkaka, Kanellbullar and many other things, that you can have for Fika (one of the most important swedish words).
About 17 000 students are studying at the university and a part of them lives in Studentgatan which is right on Campus, but more on that later. All the courses that are offered for exchange students are in English.
There is also one Pizzeria, that is actually quite cheap (the cheapest Pizza is only 50SEK) on Campus as well as a Pasta-restaurant where they sell cheap and delicious pasta (also gluten-free).
Important to know is also that there is a shop called Pressbyran right next to Studentgatan where you can buy some food and other important stuff, when you have no time to go grocery shopping. (That was a very important shop for me in the first week, as we had so many things scheduled in our Orientation programme that I literally had no time to go to the grocery store).
The university is located a bit out of town, but by bus it is only about 15 minutes to the city center which really isn't that much. Also the huge and beautiful lake Hjälmaren/the nature reserve is not too far from the university and definitely worth a few visits.
A doctor, pharmacy and also a few supermarkets (I liked especially Maxi Ica because it was new and had basically everything) are within walking distance, at the most 10 minutes.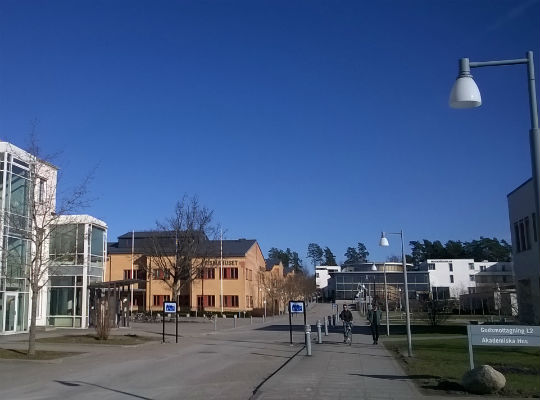 Description and reflection of the courses
The Swedish course system is quite different from the Austrian one, as you only have one course at a time. I had all the education courses and had classes approx. 3 times a week, plus school placement. Each course lasts 5 weeks and within those 5 weeks you have to go to your school placement 5 times – how you arrange this is up to you. You get the contact of your school in advance and then you have to write your supervisor at school an email and arrange the days you're at your school placement.
My courses
Education Teaching and Learning – a comparative perspective (7.5 ECTS)
The general aims of this course, as well as in all the other courses I took are to gain critical thinking by reading relevant course literature and reflecting on that in the cases as well as the individual critical assessments. We had to read novels as well as theoretical literature.
The main focus of this course was to see "teaching and learning" as a complex phenomenon. We learned about the Swedish educational system as well as what it means to learn something and what it means to teach and how one can promote the other.
Special Needs Education (7.5 ECTS)
The general aims of this course are the same like in "Teaching and Learning – a comparative perspective". Again the most important thing for our professor was to gain critical thinking and many different professional opinions on Special needs education. By using novels (such as "The curious incident of the dog in the night time) as well as articles to broaden our horizon, we had a strong base of information to which we could connect our own thoughts in our assessments.
Perspective on the relation school/parents (7.5 ECTS)
The general aims of this course are again basically the same like in the first and second course.
However the main topic here was the relationship between school and parents. We discussed this from a historical/international perspective and learned about concepts like influence, partcipation and cooperation. The main focus was on the (often difficult) relationship and cooperation between teachers and parents.
Diversity in classromm (7.5 ECTS)
The general aims of this course are the same like in the other ones. This course was my favorite one because the professor tried to focus on feminism/interculturalism as well as all the other diverse aspects that occur in the classroom. We focused on diversity from societal, pedagogic and personal perspectives. The classroom is the starting point for critical reflection on intercultural possibilities and challenges.
General reflection about education courses
The Swedish course system was completely different from the Austrian one. The main difference was probably that we only had one course at a time which was actually really good, because so we could focus on one topic. We had to read a lot of relevant and interesting course literature for every course. It was a mix of fictional literature, articles and theoretical books. In our classes we had to do a lot of group work and we discussed and reflected on what we had read together.
We got our grades in every course by writing several individual assignments throughout the 5 weeks the course lasted, by one oral presentation and one final assignment in the end of each course.
Reflection about school practice
The school practice was part of the education courses. We got a new school placement for every course and within every course we had to go to our school five times. We had a supervisor at every school and all of whom were very nice and answered all the questions we had. All in all I think the school practice was a little boring, because we couldn't really do anything but observe. And it sure was very interesting the first few times because it's exciting to see how a typical lesson in Sweden looks like, but as I didn't understand much Swedish it was hard to follow the lessons, especially when we had to be at a school for 5 or more hours. I got to see different types of school, like primary school, gymnasium and high school. It was easier for me to sit in classes with older pupils, because I had the possibility to observe English or German classes and because all of the older students can speak English perfectly well.
What I found most interesting was that the relationship between pupils and teachers is very different than in Austria. First of all, pupils usually say their teacher's first name. And all in all the teacher acts more like a friend or supervisor than an authority.
Orientation week
When we first arrived we took part in a 2-weeks orientation program. We got the schedule for those two weeks before we arrived in Sweden and it was the best start for an awesome semester anyone could imagine. ESN organized parties and activities almost every day, as well as a trip to IKEA. We hardly had any time to ourselves and on our first weekend in Örebro we made an overnight trip. This was really the best thing to get to know everyone and to find friends. We were divided into "Fadder-groups". There were about 15-20 people in each Faddergroup – a mix of ESN-students and Swedish students – our Fadders. The fadders organized pre-parties for us as well as activities and dinners and answered all our questions and we stayed in rather close contact not only for the first two weeks but also throughout the whole semester.
Housing
The housing is really nice. All students either live directly on campus (Studentgatan) or near at the university (Tybble - 10 minutes walk). Every student has their own bathroom and some even have their own kitchen in their room. You live in corridors with 8 people at most with a shared kitchen and common area (if you don't have a kitchen in your room).
The rooms are really big and nice and there is a normal chair, a comfortable chair, a bed, a desk, a shelf and a wardrobe in every room. In my room it was very quiet all the time, even though my roommates liked partying in our common area. But as long as I had my door closed, I could never hear anything.
Right behind Studentgatan is a forest where you can go for nice walks.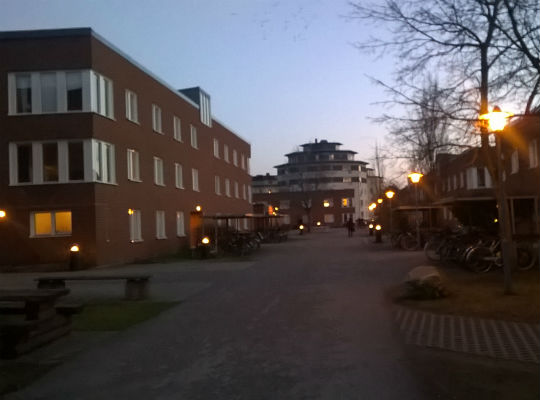 About the city
Örebro is a rather small city, so if you decide to study there, don't expect a huge town. However it is a really cute little city in the heart of Sweden with a lot of little cafes and a very nice scenery. The prettiest places in the city, where I hung out a lot are the castle (Slottet) and the way from the castle through the park (Stadsparken) to Wadköping (the historical city centre and open air museum). A few kilometers out of town is the beautiful lake Hjälmaren.