Chiara Cicchese Università degli Studi del Molise, Italy, Mobility for Study, PHSt - Incoming
University contacts:
Pädagogische Hochschule Steiermark
Hasnerplatz, 12 8010 Graz, Austria
Tel.: +43 316 80670, Fax: +43 316 80673199
E-mail: office@phst.at
http://www.phst.at/

Erasmus office
Marlene Grabner
Tutor of International Students
International Office A0110
Marlene.Grabner@phst.at

Description of the University
The University of Teacher Education Styria (PHSt) offers a wide variety of study programmes in the field of training, continuing education and further education for all types of schools and grades. It situated near the centre and the tram stop is called "Hasnerplatz - Pädagogische Hochschule". There are over 500 people employed in the fields of teaching and research. In order to find out the latest information regarding activities and projects. The academic year is made up of 2 semesters.
The winter semester begins on October 1st and ends in the middle of February. The summer semester begins the last week in February and ends on June 30th.
Usually in the classroom there are 15-25 students; all the courses have 1 to 3 ECTS.

Description of chosen courses
• English – 2,00 ECTS
• Digitale Kommunikation – 2,00 ECTS
• Die europäische Dimension in Kultur, Gesellschaft und Bildung – 1,00 ECTS
• Methoden der Interaktion – 2,00 ECTS
• Unterrichtsmodelle im europäischen Vergleich – 1,00 ECTS
• Unterrichtsbesuche – 1,00 ECTS
• Unterrichtsanalyse – 3,00 ECTS
• English (2) – 1,00 ECTS
• Singen und Musizieren – 1,00 ECTS
• Arbeiten im farbigen Bereich – 1,50 ECTS
• Rhythmik – 1,00 ECTS
• Päd. Soziologie: Spezielle Aspekte – 1,50 ECTS
• Tutorium: Päd. Soziologie - Spezielle Aspekte - 0,50 ECTS
• Deutsch Sprachkurs 1 (A1, A2) für Erasmus Incomings – 2,00 ECTS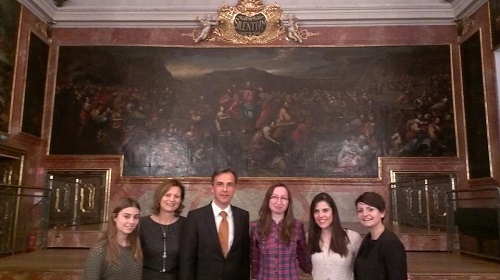 Erasmus Students/Tutor with the mayor of the city of Graz (Chiara Cicchese)

Detailed description of the registration process at the host organization
I filled my application form to give some information about me, after this I did the Learning Agreement, and it was a little bit difficult choose the course online. When I arrived in Graz, the first day I went to the international office and I started to visit the university and signed the documents. When it came time to create the calendar of the lessons unfortunately I cannot do some courses, but my tutor, helped me to find new courses and change the Learning Agreement.

Review of your stay abroad in academic terms
I have learned new pedagogic knowledge to teach in the primary school, especially make into practice the theoretical notions. This experience has opened my mind and my points of view, to give me a lot of new ideas to teach in the future! I improved my English, but I have many problems with German (Life is too short to learn German!), because I never study before this period!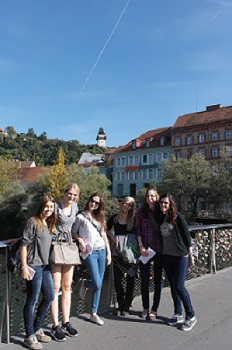 Welcome Day in Graz (Marlene Grabner)

Review of the stay abroad in cultural terms
During my Erasmus period, I meet a lot of new people that came from all over the word, and I shared with them many feelings (happiness, fear, etc.). The university and especially our buddies helped has every time and prepared a lot of activities like cinema, welcome day, bake cookies for Christmas, international dinner and excursions.
In the city there are a lot of Erasmus students, and this is the ideal to compare many things, share parties and dinner, to become friends forever! Also I travel a lot like in Vienna, Munich, Budapest, Salzburg, Innsbruck, Linz, and also many city.
Last but not least, the Austrian people are very friendly and polite, anytime they are ready to help you.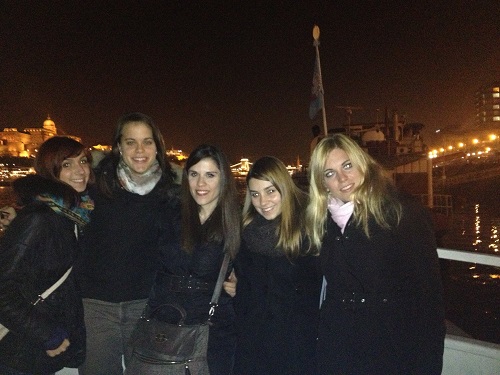 Boat Party/Tour in Budapest (Chiara Cicchese)