Daniel Rössler, University of Las Palmas de Gran Canaria, Mobility for Study, PHSt
Author: Daniel Rössler
Contacts University
University of Las Palmas de Gran Canaria. ULPGC
Email: universidad@ulpgc.es
C/Juan de Quesada, nº 30
- Las Palmas de Gran Canaria - 35001 - Spain
Tlf.: (+34) 928 451 000/023- Fax: (+34) 928 451 022

Faculty of teacher education:
Edificio Formación del Profesorado
Santa Juana de Arco, 1
35004 - Las Palmas de Gran Canaria
Teléfono: 928451775
Fax: 928452880
http://www.ffp.ulpgc.es/
For erasmus students the most important contact is the mobility office:
Gabriel Godino Morales
rrii_humanidades@ulpgc.es
or the international coordinator of the faculty of teacher education:
Elisa Ramón
elisa.ramon@ulpgc.es
The University of Las Palmas de Gran Canaria was founded in 1989 and there are about 25 000 students.
It consists of six campuses
-Obelisco, Tafira, San Cristóbal, Montana Cardones that are located in Gran Canaria and also two on the canary islands Lanzarote and Fuerteventura.
There is a big library which offers students a quiet area to study and the use of computers.
Registration process and welcome week activities
Before the semester starts there are different activities offered by the university. During the welcome week that usually
takes place during the last week before the semester starts you do different activities like surfing. It is a good chance
to get known to your new mates.
More information: http://www.movilidad.ulpgc.es/index.php?option=com_content&view=article&id=339%3Asemana-de-bienvenida&catid=147%3Asb&Itemid=301
The registration at the university is quite simple. Before your stay you have to register in the online application of the university.
You get an infomail from the university with detailed instructions.
At the university there is a mobility office ("oficina movilidad") where you get your Learning Agreement and your matriculation
for the courses you have chosen. This is very important because without the matriculation you can not take part in the exams.
You have to be very patient in managing these things because everything takes a lot of time in Spain.
Courses
I have chosen the following courses:
-PRACTICUM I 12,5 ECTS
The practicum was the most important experience for me.
At the University of Las Palmas you have to do three practicums during your study. In the first year you do a practicum that lasts five weeks. The goal is to get used to teaching in general and learn how school is working. You always have a mentor with you who is a teacher in the school and most of the time you watch him.
The school where i did my practicum was Colégio Claret, which is a semi-private catholic school. My teacher who was responsible for me was called Manolo and he was fortunately an English teacher. My Spanish still was not really good when I started with the practicum.
As one can see in my timetable one lesson lasts 60 min. Between 10:30 and 11:00 the students have break. Between 13:00 and 15:00 the students do different activities such as swimming, football, dancing, ...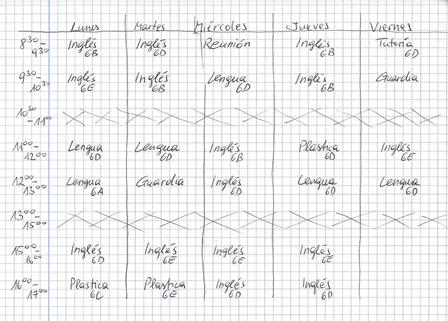 (My timetable)
In the first three weeks I alway went with Manolo and I did not have to teach on my own. I did several sequences in all of the lessons. Sometimes Manolo was not here I taught on my own. I was surprised at the good behaviour of the students even when only I was in the classroom.
During my stay in this school I my Spanish improved a lot and I was already able to give instructions to the students in Spanish.
In the last two weeks the German teacher got ill and the headmaster asked me to do these lessons and of course I agreed immediately. It was a great challenge for me to teach German in a Spanish school. Altough I was not prepared for this everything went very well and the students had at least as much fun as I had. They were very disciplined and motivated as they wanted to use the chance to have a native German teacher
On the last day of my practicum in Claret the students had prepared a big surprise for me. They brought cake, sweets and lots of other things. They even prepared a PowerPoint presentation and made a big poster saying "Good bye Daniel". It was an incredible feeling for me to see that the students liked my clases and were really sad that I leave.
Unfortunately I was not allowed to take fotos because you would have needed a special permission from the headmaster.
-EDUCACIÓN FÍSICA 7,5 ECTS
In this course we learned how to teach physical education at school. The students were devided into groups of four and every group had to plan one session. Most of the time it was quite funny to see the difference of physical education in Austria and in Spain. In Spain there is a lot of dancing and playing and just having fun together. This way of teaching physical education would not be possible in Austria.
We also made an adventurous trip where we did rock-climbing, flying fox and also some old traditional canarian sports (Lucha Canaria and Salto del Pastor).
The exam was a multiple choice exam and was quite difficult for me because there were lots of words I was not able to translate.

-COMUNICACIÓN ORAL Y ESCRITA EN LENGUA EXTRANJERA (INGLÉS) PARA UN ENTORNO EDUCATIVO B1+ 4,5 ECTS

This was just a normal English-course. All students of the University Las Palmas who want to become a teacher have to achieve level B2.
The level of the students is quite low and so the course was a little bit boring for me.

-ESPAÑOL LENGUA EXTRANJERA B1 6 ECTS

This is a Spanish course for foreign students. Before the course starts you do a replacement test. Depending on your results
you choose the group with your level. In my case it was B1. There are courses from A1 to B2.
Unfortunately a lot of students chose this course (in my group were around 70 participants) and because of that
it is difficult to make a good use of it.
In the course we used the book "Gente 2" that costs around 20€. In addition to that we worked with Duolingo which is a very useful freeware where you can learn languages.

-ACTIVIDADES EN EL MEDIO NATURAL 6 ECTS
In this course we did several activities in the nature and made some excursions.
- Surfing
- Excursion Tamadaba (national park)
- Excursion Teide in Tenerife (highest moutain of Spain)
- Climbing, abseiling
- Diving in the sea
- Hiking
Between these activities we also had parts of lectures where we learned the theory (for example surf).
For the exam we had to learn a script with around 80 pages which a litte surprising for all of us. Some erasmus students and me asked to to it oral and so it was not too difficult.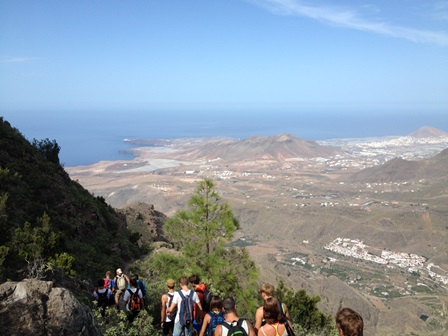 Nationalpark Tamadaba (Gran Canaria)
Accomodation
During my stay in Las Palmas I lived in a shared flat with people coming from all over the world.
Finding an accomodation in Las Palmas is quite simple because there are a lot of flats offered to be rented, especially for students.
There are also some studentsorganisations that help students to find an accomodation.
The easiest way to get in contact with them is Facebook. There a couple of groups you can join or just write them a private message.
The prices for a room reach from ~120€ up to ~350€ depending on the location of the flat.
The flats in Las Palmas do not have any heating so it can get quite cold during January.
The life in Las Palmas de Gran Canaria
In general the daily life in Las Palmas is cheaper than in Austria. Basic groceries, for example bread and meat, are
a lot cheaper than in Austria. There are several supermarkets where you can do your daily purchase and there are also two big shopping malls with lots of stores.
The historic district of Vegueta offers a great range of cultural highlights, for example the Cathedral. Furthermore there are lots of bars and restaurants where you can go out and enjoy the nightlife. Every Thursday an event called "La noche de tapas", where you can eat typical Spanish food, takes place. The streets are crowded and that gives you the feeling like nobody is at home at this time in Las Palmas.
The part around the city beach Las Canteras is also very busy. There are big hotels, lots of restaurants and tourists. You also can find several surf schools and shops. I lived in this area during my stay in Las Palmas and I really enjoyed living close to the beach. Due to the good transport system of Las Palmas it is not necessary to live close to the University because you can get there by bus easily.
If you want to see more of the island and make a trip there are lots of car rentals where you can rent a car easily.
Transport system
The transport system in Las Palmas is very good and also quite cheap. There are two kinds of buses (in Gran Canaria buses are called "Guaguas") : the blue ones "Global" around the whole island and the yellow ones in Las Palmas only.
Buses usually leave every ten minutes but in real they come and leave whenever they want (it's really Spanish ;-).
The island
The island is mountainous offers a wide range of different vegetations. In the western part of the island there is a national park called Tamadaba where you can find conifer forest and even some broadleaf. The landscapes are quite green and full of vegetation. You can do different activities like climbing and hiking.
The southern part of the island is more or less like a dessert with big rocks and nearly no vegetation. The famous holiday destinations "Maspalomas, Playa del Inglés, Puerto Rico, ..." with big hotels are situated in the south and because of that it is dominated by the tourism. When I went to Maspalomas I felt a little bit like home because everybody spoke German and you did not hear any Spanish words anymore. This is due to the fact that the canary islands are one of the favourite holiday destinations for German people.
In the centre of the island you can find some nice little villages. The highest mountain is called Pico de las nieves (1949m).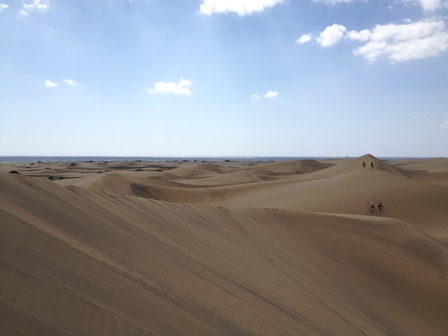 Dunes of Maspalomas