Theresa Außerlechner & Katharina Schüler, Odisee, Belgium, Mobility for Study, PHST
Authors: Katharina Schüler & Theresa Außerlechner
Reviewer: Theresa Rauter
Odisee
Campus Brussel
Warmoesberg 26
1000 Brussel
BELGIUM
Tel.: +32 (0)2 210 12 11
Coordinators:
Stefanie Derks (International Office)
Campus Brussel
Warmoesberg 26
1000 Brussel
BELGIUM
Tel.: +32 (0)2 609 81 00
E-Mail: stefanie.derks@odisee.be
About the University:
The University College Odisee is the result of a merger between 2 Belgian university colleges, i.e. Hogeschool-Universiteit Brussel and Katholieke Hogeschool Sint-Lieven. The six campuses of both educational institutions are widely spread over Flanders but work together towards a joint future.
Odisee has locations in different cities: in and around Brussels, Ghent, Aalst and Sint-Niklaas. Different campuses:
Campus Brussel Warmoesberg 26, 1000 Brussels
Campus Parnas Stationsstraat 301, 1700 Dilbeek
Campus Hoger Instituut voor Gezinswetenschappen Huart Hamoirlaan 136, 1030 Brussels
Technologiecampus Gebroeders De Smetstraat 1, 9000 Ghent
Campus Dirk Martens Kwalestraat 154 , 9320 Aalst
Campus Waas Hospitaalstraat 23 9100 Sint-Niklaas
The campus that we stayed in is Campus Brussels. Odisee is a Flemish school which means that they receive subsidiaries from the Flemish government to organize courses for students in Dutch. Besides that they do offer English-taught programmes for incoming students.
Odisee has approximately 165.000 students in their professional bachelor programmes and academic bachelor and master programmes. Odisee offers education in different fields of study:
Business Studies
Science and Technology
Health Care
Teacher Training
Social Work
Exchange
KeyS for Teachers in Europe
We had the opportunity to attend an international class. That means the class consisted of 2/3 international and 1/3 Flemish students. The programme consisted of a three-month period of lectures, self-study and teaching practice. In the course of the programme 20 or 30 ECTS could be obtained. We chose the programme with 20 ECTS. In total we attended 5 courses.
1) Communication, cultural awareness and expression (4 ECTS)
The three themes (communication, cultural awareness and expression) are explored in depth by confrontation in nature, self exploration and cooperation with other people. There is a whole variety of cultures in Europe. What is 'culture'? Do you think in stereotypes? Looking for the Belgian culture in the city is one of the tasks for students.
There are many ways to express your emotions, feelings, dreams. A lot of young people do this by music, clothing, nonverbal and verbal language. In small groups we explored different youth subcultures: Hip hop, Straight Edge, Gothic, EMO etc. The aim was to offer learning opportunities to the group and its members.
Exploring personal qualities like authenticity, empathy, confidence, ...
Encouraging personal skills like accepting challenges, developing life skills and discovering creativity
Cooperation with students of different countries & cultures
Building knowledge about experience-based education
2) Diversity in/and education (4 ECTS)
This module aimed to establish an understanding and awareness of equality and diversity and to enable students to reflect critically on and challenge perceptions, attitudes and practices that promote prejudice and discrimination in education. During this module we looked into different aspects of diversity in our society, in schools and education and acquire the necessary knowledge, skills and attitudes to deal with diversity in education. Beside a theoretical introduction on diversity in/and education, we also got the opportunity to practically experience and investigate diversity in Brussels and other places in Belgium. In a project work we developed our insight and skills in different implementations of diversity in education. We acquired some in-school experience, while observing classes in pre-primary, primary and secondary schools. We participated in an International Teacher's Day (Thomas More Vorselaar) and were able to share our views on diversity and internationalisation with Flemish teacher training students.
3) Teaching in Europe/Europe in teaching (4 ECTS)
In this module teaching in Europe/Europe in teaching we prepared ourselves for a career as "teacher in/for Europe". We learned about different educational systems (with)in European countries: the similarities and differences. We also discussed how the European dimension is integrated in the education of each participating country. Last but not least we discovered the possibilities for teaching in a European perspective.
4) Keys for Europe in education (4ECTS)
Teachers are confronted with new technologies in education. They also have to enable their pupils to develop their digital competences. Digital competence involves the confident and critical use of information society technology (IST) and thus basic skills in information and communication technology. The new challenge for a teacher is to integrate new technologies in his classroom.
We learned about:
… the power of images
… the way young people use social networks: facebook, twitter, ..
… and work with animation-tables
… and be confronted with cyber-bullying selecting and developing adaptive teaching methods for children in a defined environment so the pupils acquire key competences for lifelong learning and will become autonomous learners.
5) Social and cultural competences (4 ECTS)
Skills for civic competence relate to the ability to engage effectively with others in the public domain and to display solidarity and interest in solving problems affecting the local and wider community. Therefore, we focused in this key on self-knowledge and facing diversity in our way of life. The qualifications we need to live as a citizen in the Europe of today, requires insight in the complex phenomenon of identity and the way we live as a human being in a group. We implemented this on the teacher and his pupils. Facing history learned us more about the complexity of human society.
Together, we reflected on the past and the current tendencies in our society. We paid much attention to our own experiences in Belgium. We tried to link our information about Flanders to what we saw and heard during our visits to different places and to the influence of foreign cultures.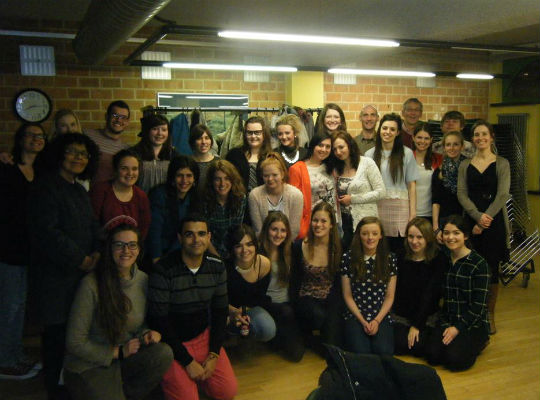 Our International Class (Image Alice Bowring)
Practice
We visited a school in Oostende, called Onze-Lieve-Vrouwecollege. It is an old Catholic school with history, the most famous graduate of the school is the artist James Ensor. 900 students attend this school and 90 teachers teach there. The school is divided into a primary and a secondary school. The school building itself consists of old buildings and newer components. Almost every classroom is equipped with the latest technology (Smartboards, PCs, etc.). In average there are 25 pupils in one class. Diversity exists in terms of origin and language. The students speak more than 100 different languages and they have a wide range of nationalities. But they all speak fluent Flemish. According to a teacher, this has historical reasons: the students are the 3rd generation of immigrants. Obviously this school has a cultural diversity in the classrooms.
When we arrived we got a tour of the secondary school. The guide told us about the history, school rules and general information about Oostende. In my opinion, the school rules for the secondary are very strict. For example, the students are not allowed to wear nail polish, mascara or short skirts. It is also forbidden to use the phone/tablet on school grounds. If a student arrives late to class, he/she will be punished with additional work orders.
After the tour we were able to observe a few hours in primary school. During my observation I noticed many similarities and differences between Belgium and Austria.
Similarities:
School milk: Also in Austria, the children have the opportunity to order a school milk. But Belgium thinks more sustainable - they use glass bottles instead of plastic cups.
Structure of textbooks: The textbooks are similarly organized and set up (topics, examples, etc.)
Classroom design: The classrooms are very lovely and colourfully designed with many learning materials, images, etc.
But also differences were evident:
Wardrobe: The Belgian students are allowed to go inside the class with their outdoor shoes. They just take off the jacket in the wardrobe. In Austria the children have to wear slippers in the classrooms.
Equipment: The chairs were fixed at the tables (I do not think that this is child-oriented, because younger children need to move. With this furniture it is impossible to create an environment for an open learning, focused on the kids.) Further more the Smartboard has many advantages. It is practical and universally useable, but the curtains were always closed, that they were able to see the screen. In consequence of this the children had no daylight all day in the classroom.
Teaching: The teaching itself was frontal teaching and not student-centered. What also irritated me was the raised platform in front of the class. That made me feel that the teachers look down on the children.
Chess: It was interesting for me, chess is embedded in the curriculum. I think this game teaches the children logical thinking and has a reference to mathematics.
Breaks: After every lesson the children had breaks for 15 to 20 minutes, where they were allowed to go on the playground. I think that is great because children have to move (as I mentioned earlier). After the breaks I got the impression that the pupils were relaxed and focused.
In summary, it was a very exciting and interesting day. We are grateful for this little insight into this school. However, I do not think that this school is representative of whole Belgium. I saw many things - some aspects I liked about the school, some I don´t. But as a future teacher, I can learn from it and take only the positive.
We also went to an alternative pedagogic school – a Freinet school. It was an amazing experience for us. You could notice that the children loved to go to school and that they were really curious to learn something from us. The morning in this type of school starts always with a circle time where the children express their feelings. Afterwards some children presented a historic topic, an actual topic from the newspaper or a self-written poem. During the day the children always work independently on their tasks. We loved this school and really hope to work later in one of this type of schools as well.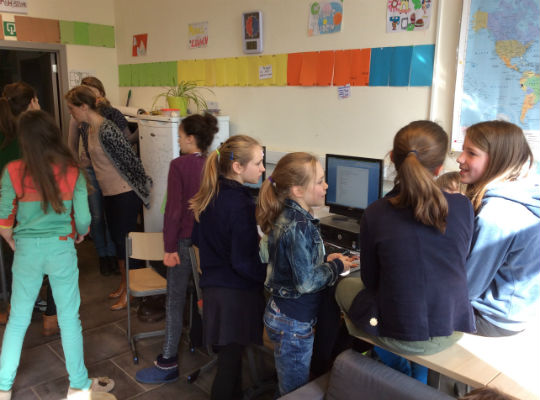 Freinet school (Image Kamila Hrníčková)
Belgium/Brussels in general
The Kingdom of Belgium is a federal monarchy in Western Europe. In total Belgium has about 11,2 million inhabitants and covers an area of 30528 km². It is a dense populated country. Belgium shares borders with France, Germany, Netherlands and Luxemburg. In Belgium they speak 3 languages and there are two main linguistic groups. On the one hand there is a Dutch-speaking-population, the Flemish community (called Flanders) in the northern part, which comprises about 59% of Belgians. On the other hand there is the French-speaking-population, the Walloon population in the south which constitutes 41% of the population. German is only spoken by a limited number of people, who live close to the German border. Brussels, the capital of Belgium, is a bilingual enclave. It is located in the Flemish part but 90% of the one million inhabitants speak French. After French the second most spoken language is English because Brussels is a cultural mix of all different nationalities from all over the world. Our university in Brussel was a Dutch-speaking University but our Flemish colleges always spoke French or English in the city centre. Because of this fact our Dutch didn´t improved but we learned the basic facts in French and through the international class, where we only spoke English, we improved our English skills a lot.
Useful tips
Housing
We had a wonderful accommodation at the house of a French-speaking couple in the quarter Ixelles. Close to our house (ten minutes by walk) we had a huge and magnificent parc, bois de la cambre, where we often went to relax and enjoy the nature. We found the accommodation through a friend of us but there is a Facebook group, called Bxl á Louer – de bouche á oreille, where you can find good apartments as well. We definitely recommend to spend a little bit more money and find an accommodation in one of the "good" quarters in Brussels. Ixelles, St. Gilles and the city center are for example very good ones. In our quarter we had never any problems, there were a lot of restaurants, pubs and shops around us and it was a typical living area. Other regions like Mollenbeek, Etterbeek and Scharbeek have a rather bad reputation and you should be carefully at night.
Travelling
Belgium is a very small country and Brussel is perfectly located. In one hour you are almost at every important city, it doesn´t matter if it is located in the north, south, east or west. The train connection is very good in Belgium and on the weekend there are special weekend tickets, where you get a 50% discount on the standard fare. We almost discovered whole Belgium. Amsterdam, Paris are also only 1 ½ hour trips by train and Luxembourg and cities in Germany are also very close to Belgium. In our holidays we discovered a lot of new places. We went for example to Amsterdam and Paris by bus, as it was much cheaper.
We travelled a lot also with our university. We went to Brugge, Ypser, Leuven and Vorselaar. It was an amazing experience because we always had locals who showed us the most interesting places. We went to a lot of museums and interesting institutions and the best fact was that we did not have to pay for anything.
Social life
We went to the international class where we formed many friendships around the world. We not only learned a lot about the Belgium culture, but also about the English, Scottish, Irish, Spanish, Italian, Turkish and Norwegian culture. The university organized at the beginning an international dinner, where we had the first time the possibility to get in contact with our different cultures, traditions and meals. Through our stay in Brussels we often went to the Irish pup Nua´s. It is a karaoke bar with a lot of international people. We really recommend you to go to the Bonnefoi or to the Madame Moustache when you want to have an unforgettable night in the capital. A good alternative to going out in Brussel, is taking the last train to the student city Leuven (only 20 minutes by train) and have a couple of typical beers with the students from this city. In the morning you can go back to Brussel with the first train.