Lynde Hans and Maaike Spijkerman, Linköpings University, Sweden, Mobility for study, KPZ
Study in Sweden
Study at:
Linköping University
SE-581 84 Linköping
www.liu.se
Since we missed the deadline, we informed the University personally. Our International Office helped us and contacted straight. Normally, the deadline for the spring semester is in October (for next year 15October 2015). You can choose different courses. You will find information about the courses on the website of the University (www.liu.se). After the registration you will receive all information by mail. You have to be sure you signed your learning agreement before departure.
We followed the next courses in Sweden:
Film, video as aesthetic expression, 7,5 credits
This course is primarily designed for exchange students who are not familiar with the Swedish language. This course aims at developing skills in using film and video as an educational tool in pre-schools and elementary schools.
Introduction to Special Education in a Swedish Context, 7,5 credits
The course takes its departure in a description of the Swedish school system and the political decisions that it is built on. The main points of the National Curricula for both elementary and secondary education are looked into, as well as policy documents that constitute the base for special education.
Nordic Culture - Area of emphasis: Educational Science, 15 credits
The course give insights into Nordic cultural life. Culture is known as the system of shared beliefs, values, customs, behaviors, and artfacts. From an educational point of view we explore and discuss culture, identity and citizenship. We study esthetical expressions in for example literature, fine art, craft, film and music for children and youth. Students will visit and experience both urban and rural surroundings. The course will also give the participants the possibility to take part in Nordic natural outdoor activities as part of their experience and learning. The course include two compulsory seminars with a cost for the student.
Beginner's Course in Swedish for Exchange Students, level A1, 7.5 credits
This course is intended for exchange students with no previous knowledge of Swedish and has the same content as the course above. The aim of the course is to give students a basic knowledge of Swedish with an emphasis on oral skills. The course includes pronunciation exercises, oral training, basic Swedish grammar and short, writing exercises.
Preparation:
You can try to prepare yourself to do an English course, read information about the country etcetera, but actually you will learn everything if you are in the country itself. It 's smart to buy a visa card. If you want to buy things on internet (for example a train/ bus ticket or an if you want to book a hostel) you always have to pay by visa card.
You can register yourself at 'Studentbostader' to save point in case you don't get a room to life in from the University. On the notice board on the portal are a lot of people who want to sublease their room or who want to find someone to life with in another house. Try to find an accommodation in 'Ryd'. Most of the students are living in this place.
From an educational point of view:
Before you leave to Linköping you have to choose some courses. We can tell you something about the courses we know things about.
Swedish, level A1:
We can recommend you to do this course. It is useful to know something about the Swedish language and you will also learn about the Swedish culture. As a Dutch, Swedish is not hard to learn. You can choose for a full-time course in the beginning of the semester or for a part- time course once a week for five months. If you choose for the full- time course, you will have Swedish for 3 weeks, five times a week. The advantage is that you know already a lot about Sweden in the beginning of the semester and you can follow the A2 level course during the rest of the semester. Moreover, it's a good way to make friends for the whole semester. If you don't want to leave earlier to Sweden (one week earlier) for the intensive course you can follow the course once a week.
Film and video as Aesthetic Expression
We won't recommend you this course. The course is about using film and video in classroom. The description of the course says that you will develop your skills in using film and video as an educational tool. Actually, sometimes we thought that we knew more than our teacher.
Artistic Methods in education
We both didn't follow this course, but people told us that it is a nice course: not to hard with a lot of practical lessons. You will receive good ideas for your teaching practice.
Teaching practice
After these five months we both regret that we didn´t choose this course. It is a good way to learn the Swedish school system and to see the ins and outs of a school. You have to do your teaching practice only for 20 days (can be more if you want, of course) and you can help, teach, participate in the school.
Introduction to special education in a Swedish context
This course gives a good opportunity to take a look in Swedish schools. You will learn about 'Inclusive education' in Sweden and how special education is shaped. You don't have lectures only, you will also visit different schools.
Nordic Culture
This is one of the best courses we took here. You will learn about Sweden and the Nordic culture. It's also related to education. You will have lectures, but you will also go on some trips. The trips are for you own costs (a part), but it is a good opportunity to see the small things in Sweden. If you take this course you will probably go to Åre, a part in the middle/ north of Sweden and to Småland (west coast). You will do things you will never do on your own or never will do again.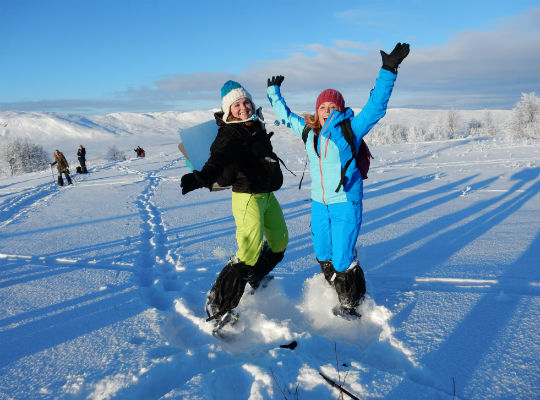 Next to the courses related to 'Educational sciences' you can take courses in academic writing or English. It can be useful, but we both don't know a lot about this courses.
Generally, the courses in 'Educational sciences' are not really hard. It is easy to get your credits (every course is 7.5 ECTS, expect Nordic Culture you will get 15 ECTS for that and teaching practice, 8 ECTS). Courses from other faculties are generally a little bit harder.
From a cultural perspective:
Linköping is a typical student city which is located in the area Östergotland. Linköpings University consists 27.500 students. A lot of these students live in Ryd, the student neighborhood of Linköping. It consists a lot of big buildings with corridors. Almost all international and Swedish students live here. It is around 10 minutes biking to the University.
When we came to Sweden in the beginning of January there were some things which stood out directly. It started with taking off your shoes when you come in to another corridor or house. The Swedish people will not appreciate it when you come in their house without taking off your shoes.
The second thing is Fika. Fika is a social cup of coffee. Swedes do it a lot. They talk with each other and drink a coffee, a thee or soda, sometimes with a Swedish delicacy like Kanelbulle, kladdkaka or chokladbullar.
There are a few things, you can do in Linköping. A special attraction are the locks of Berg on the Göta Canal. There are a lot of locks placed after each other. In summertime this is a big attraction.
You also have Gamla Linköping. It is a kind of open air museum. When you walk around you see a lot of wooden houses, cobblestone alleys, gardens, small museums, shops, a restaurant and a café from hundred or more years ago.
Linköping is not the most beautiful city of Sweden, but it is a real student city. Linköping is surrounded by beautiful other cities. These other cities are easy to reach by public transport. (The trains and busses in Sweden are not that expensive. It is a little bit cheaper than the public transport in the Netherlands.) One of these beautiful cities is Norrköping. You can reach Norrköping with a free student bus during week days, which goes from Linköpings University to the University in Norrköping. Norrköping is a beautiful old industrial city. Next to visiting these city, we also want to recommend Göteborg and Stockholm. Stockholm is the biggest city of Sweden and Göteborg the second biggest. Both are beautiful.
Next to visiting cities you can also go hiking. There are a lot of forests where you can hike. Close to Norrköping, Åby, is a wonderful forest. In Sweden is a rule, which is called 'Allemansrätt'. This rule gives everyone the freedom to roam the Swedish countryside. You can, for example hike and sleep in the forest. There are also some facilities in the forest. In the beginning of June we hiked once for two days around a lake. We slept in a shelter with a fire place in front of that.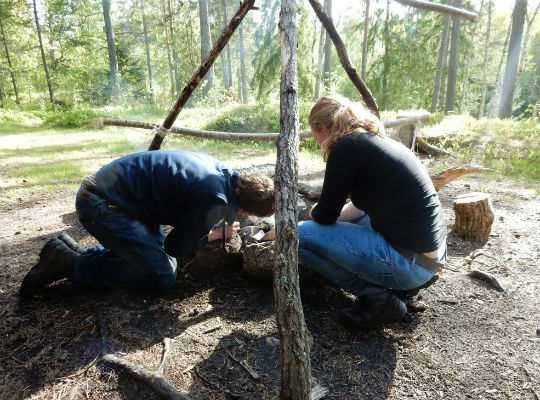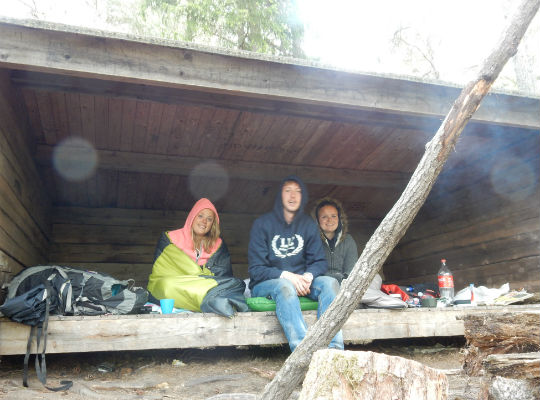 You also have the possibility to make some trips. There are two student organizations for international students in Linköping, ISA (International Student Association) and ESN (Erasmus Student Network), who organize trips. ISA organize the most (and best organized) trips during the semester. You need to watch on their Facebook to see which trips they organize. They put their links where you can sign up for the trips there. You have the opportunity to go with ISA for example to Lapland, Russia, Estonia, Latvia and Norway. We went with ISA to the Stockholm, Helsinki, Russia and Lapland.
The Lapland trip was amazing. It was five days long. We stayed in a few houses on a camp in Kiruna. Our few was a beautiful frozen lake. During our stay there we went with a snowmobile to the Ice hotel, we went dog sledging and one day to Narvik in Norway. In the evening we all sat together at a bonfire after we went to the sauna. During our stay we also had the possibility to go cross country skiing.
Our trip to Russia was also with the student organization ISA. On an evening we left with the ferry from Stockholm to Helsinki. The next morning we arrived in Helsinki. We stayed here for one day. That evening we took another ferry to St. Petersburg. We stayed here for three days. The way back was the same. We also spent one day in Helsinki.
From a social point of view:
'Erasmus people'
You arrive in Linköping in the beginning of January and you don't know anyone or anything. It can be hard, but believe us: it's only for one or two days! Look around on the University, try to find some people who are also doing their 'Erasmus'. The good thing in the beginning of the semester is that there are many people like you: no one has a group of friends. One tip that we can give you is try to meet people on the first days (the welcome faire organized by the University is a good opportunity to make new friends).
If you don't have a room from the beginning of the semester, try to find someone who is doing his or her Erasmus too and live together. The living is much more cheaper when you share the rent. Next to that you will make new friends and you are not alone. Try to post a message on the notice board on www.liu.se. You will see that there are more people who are looking for a room/ looking for some people to share an accommodation with.
People who are doing their 'Erasmus' in Linköping are from all over the world, from Finland to Canada. You will meet them and become friends. You will also learn a lot about other cultures!
'Swedish people'
One of the prejudices of Sweden are the Swedish people. A lot of people think that people from Sweden are shy and individual. We also experienced this a little bit. But we also saw the amazing part of Swedish people. Swedish people are really social, they don't like small talk, but they always want to help you. Don't hesitate to ask them!

If you are coming alone (or you just want to meet Swedish people, what we can recommend you) you can indicate that you would like to have a 'peer- student'. This is a Swedish student who can help you with the ins and outs of Sweden, you can ask him or her question and he or she can tell you everything about the Swedish (student) life. A lot of people became good friends with their 'peer-student'.
Linköping is not a really big city (you can compare it with Zwolle), but it's a real student city. Specially, when you are living in Ryd, you will be a part of it. We should not give away all funny things to discover, but Swedish students have some good traditions.
Useful tips:
- Generally, Sweden is a little bit more expensive than the Netherlands. You have to pay with another currency (the Swedish Krona). One Swedish Krona is approximately € 0.90.
- If you choose for Linköping try to live in Ryd. It's a quarter of Linköping and most of the students live here in big buildings. These buildings consists of a lot of corridors. You will have your own room (20m2) with toilet and bathroom. You will share your kitchen with approximately 8 other students.
- It's harder to buy alcohol in Sweden. You have to go to the special shops to buy liquor (System Bolaget). In the supermarkets you can only buy alcohol up to 3.5 %. Moreover you have to be twenty years old to buy alcohol in System Bolaget. (18 in clubs)
- A card for public transport is only 20 SEK (€2.20). You can upload your money and travel cheaper by train and bus in the region (only Östgotrafiken).
- Try to buy a second hand bike by Facebook (and maybe other useful stuff for your room).
* Erasmus Linköping
* Erasmus student network (general)
* ESN Linköping
* Linköpings Universitet
* Studentbostader i Linköping
- If you know that you are going to Linköping subscribe yourself at 'Studentbostader'. You get one point every day, with this points you can try to hire a corridor room. In case you don't get a room from the university, try to get a room via 'Studentbostader'.
- It is not strange if you get a room by the University, but you can't live there from the beginning of the semester. You have to find another accommodation for approximately three weeks. These weeks can be the most expensive for you if you can't find a good accommodation, but it can also be your cheapest! You can try to live in a corridor of someone who left (people try to hire their room on Facebook). It's better to try to book a guest room at 'Studentbostader'. These rooms are as big as corridor rooms (now you have your own kitchen, bathroom and toilet and a double bed). You can live with two persons in one guestroom. The prices are approximately €120 per week, this is much cheaper than a hostel or hotel.
- Check your insurance before leaving, even if you are sure that you have a good one. Most of the annual travel insurances are only for three months.
- If you choose for the Swedish course be sure that you buy the new book! Since January 2015 the University uses a new edition, totally different than the old one. (A lot of people are trying to sell their old books now on Facebook).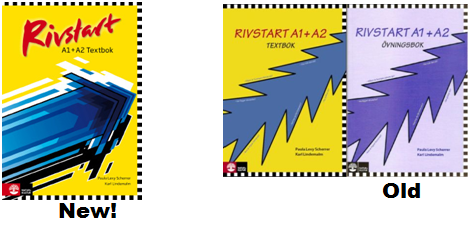 Financial overview: Study in Sweden, 2015
Sweden doesn't use Euros, if you are going to Sweden you have to pay in Swedish Kronas. For this reason the prices below are approximately.
Prices are based on expenditure per month, except of the travel costs, trips and the Erasmus scholarship.
Expenditures

Rental

± € 320,-

An average room is 20 square meters. You have your own bathroom and toilet. You have to share the kitchen with approximately seven others. The rooms are already furnished (bed, table, lamp, 2 cabinets and chair). You can choose to live with someone else in one room (double room), you have to indicate this in advance. In this case you only have to pay a little bit more that the half of the rent for a single room (± 180)

Study

During your semester abroad you have to pay tuition to your home University. In Sweden you don't have to pay extra tuition.
Trips with courses (varying from one day to a week) are partly funded by University, but you have to pay always a little bit (up to € 200).

Livelihood

± €150,-

Generally, Sweden is a little bit more expensive than the Netherlands because of the other currency.

This € 150 is without parties and alcohol. If you want to go to a party, you have to pay most of the time an entrance between € 5 and €12.

Alcohol is more expensive than the Netherlands and you can't not buy strong ( < 3.5%) alcohol in the supermarket. You have to go to 'System Bolaget' to buy your alcoholic drinks.

Traveling expenses

± 1.40

Traveling in the region is not really expensive. You alway have to pay 12 krona (if you have a resakart which you can buy for 20 krona).
As a student or youth (ungdom) you get often discount (on many things).
Traveling outside the region is more expensive. You have to buy a ticket for the bus and train. The prices are approximetaly the same as the Netherlands.
Traveling by bus is often cheaper than traveling by train. (www.swebus.se)

Trips
(not required)

€ 1280

This expenditure can be much more, but also much less. It depends of what you want to see of Sweden.
There are different organizations who organize trips to popular parts of Sweden and neighbours. This trips are most of the times the cheapest. You can always choose for extra activities during this trips.
Trips we made:

Åre (Nordic Culture): € 167

Helsinki – Stockholm: € 93

Lapland: € 550

St. Petersburg: € 250

Smäland( Nordic Culture): € 160

Götheborg: € 60,00

Bank

2 %

The amount of money you have to pay to your bank because you don't pay in euros is different per bank.

To Linköping and back

€ 50 - € 150

It's different per airport what you have to pay. You can choose for a direct flight to Linköping and after that a cap to your new house, a flight to Stockholm and then the train or bus or a flight to Nyköping and then the bus to your new home.
Incomes

Erasmus scolarship

€ 1312.50

Presumably this amount of money changes every year and depends of your days abroad. This was 147 days in or case.
2/3 of the money you receive before your departure (€ 875). The last part you receive if your are back in the Netherlands and have finished the mandatory things.

Study funding

€ 264.40 €552.68

This amount of money depends of the incomes of your parents. You get money for 'not living at home' if you are abroad for a couple of months.

OV vergoeding

€ 98.11

Since you can't use your 'free traveling' in the Netherlands you receive a compensation per month to travel in you new country. This amount of money is for everyone the same.
Contact

Lynde Hans - L.hans@kpz.nl

Maaike Spijkerman - Maaikespijkerman@live.nl
lyndemaaike.waarbenjij.nu